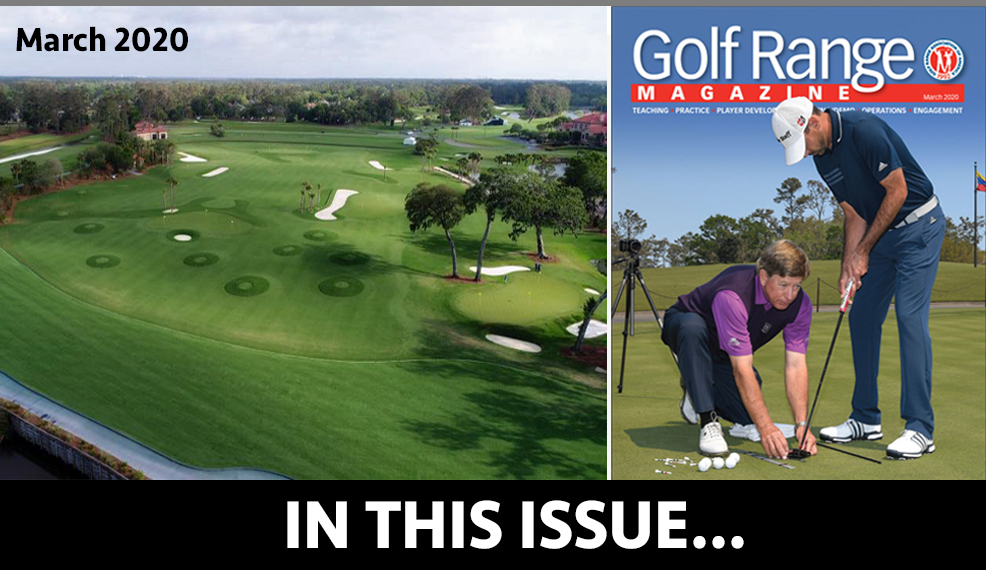 Cover Story: Tech & Training at TPC Sawgrass- The Other 51 Weeks of the Year – Range tech and teaching ability combine to make the Performance Center a year-round destination practice facility for countless TOUR players and amateurs alike.

Operations: The New Wave- Autonomous Range Pickers and Mowers – For golf range owners, or course superintendents with practice facilities to maintain, there are new and innovative methods to conduct business, specifically picking your golf range using autonomous technology
Operations: Managing Growing Pains of Autonomous Range Equipment – With reduced need for human attention, maintenance staff members can be deployed to other duties and responsibilities. That innovation isn't overnight, however, and some are feeling the growing pains of new technology

Teaching: Leadbetter Academy Upgrades to the Future of Range Tech– Recently renamed as The GOLFZON David Leadbetter Golf Academy – ChampionsGate, David Leadbetter's golf academy near Orlando, Florida is renown for its training, but might soon be known as a leader in golf academy tech as well

Practice: TOUR Pros Weigh in on TPC Sawgrass Facilities – Some TOUR Pros give us their own take on what makes the TPC Sawgrass practice facilities such a great place to hone their skills
Practice: Changing Practice at the Collegiate Level – Many colleges and universities are making the investment in today's top technology to create better golfers. Stanford University is helping lead that push
Tour Talk: Collin Morikawa Makes the Most of Limited Practice Time – Rising TOUR Pro Collin Morikawa tells Golf Range Magazine how he stays creative on the course and what to do with limited practice time

Engagement: Attracting Women to the Range and Course– Marvol Barnard is the National President of the LPGA Professionals and a member of the PGA of America. In this piece, she helps range operators and golf professionals find success attracting women to the game and keeping them in it

News: X-Golf Brings Family Passion to Indoor Range Entertainment – One of the big names in indoor simulator technology is X-Golf, a Los Angeles-based company founded in 2005. Since that time, they've sold over 3,000 systems across the globe, entertaining golfers and introducing the game to others who hadn't played before
News: Topgolf Long Island – Topgolf's Expansion Continues in Tri State Area – The leading golf entertainment company shows no signs of slowing down its growth

GRAA Best Practices: Host PGA HOPE at Your Indoor Range – Benny Menton, PGA explains the upsides to hosting military members and veterans at your indoor range
GRAA Best Practices: Offer Club Repairs to Boost Range Revenue – Brent Lingel, PGA tells us how investing in club repair can boost facility-wide revenues and boost your range business
VIDEO – GRAA Best Practices: Engage Golfers With Range Videos – Ryan Lagergren, PGA breaks down the importance of sharing fun and informative range videos with members
GRAA Best Practices: Use Technology to Reinforce Points on the Practice Range – Steve Sieracki, PGA explains how to supplement range time with tech insights for students 
Discover more Golf Range Magazine content and industry news here.