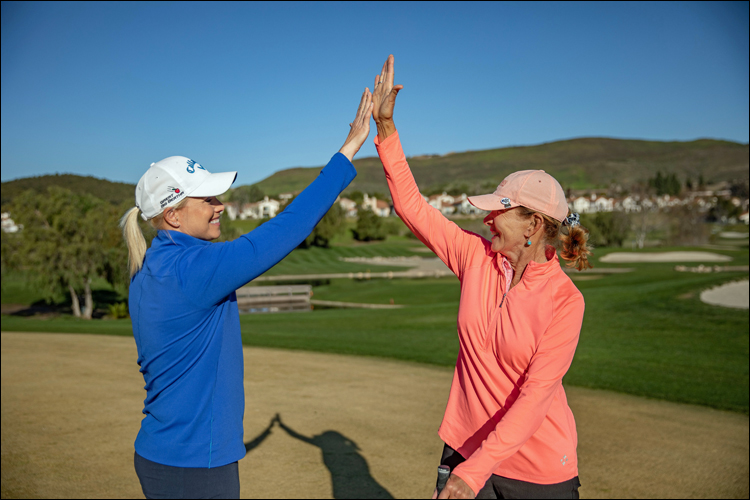 By Dr. Alison Curdt
During the 2020 PGA Merchandise Show, I had the great pleasure of presenting information on creating confident golfers. My background as a clinical sport psychotherapist has given me the opportunity to research confidence on a neurological level to help my students perform better. Many students come to the lesson tee with a laundry list of things they want help with. Inevitably, the idea of confidence always comes up on some level – wanting to "feel" more confident over shots, wanting to "have" more confidence when things get off in their swing, or wanting to "be" more confident to sign up for a club championship. So how are coaches, teaching professionals, and instructors supposed to help a player feel, have, and be more confident?

Confidence is quite subjective. As the definition tells us, it is literally the "feeling" of certainty that something will happen. This feeling comes from the idea of competency, which is the skill possessed in order to accomplish a desired motion. In order to feel confident, one must have competency. When we look at beginner golfers with little acquired skill, it can be difficult to build confidence when competency is still a work in progress. Our golfers will feel more confident once their desired skill sets are improved. That's where the coaches and instructors come into play.
One of the many roles of coaches and teachers is to help their players develop skills that are repeatable. If a golfer has a history of chipping from five feet off the green to a respectable proximity to a pin more often than not, he or she will have a sense of competency, which leads to the feeling of confidence. However, if a golfer has erratic outcomes when chipping from five feet off the green, it makes sense that he or she won't feel confident, as their skill competency is rather low. Confidence becomes shattered when we see our skill set suffer, deteriorate, or experience adversity on the golf course. Confidence declines as we see our competency struggling – so improving the skill set through lessons and drills is a good place to start.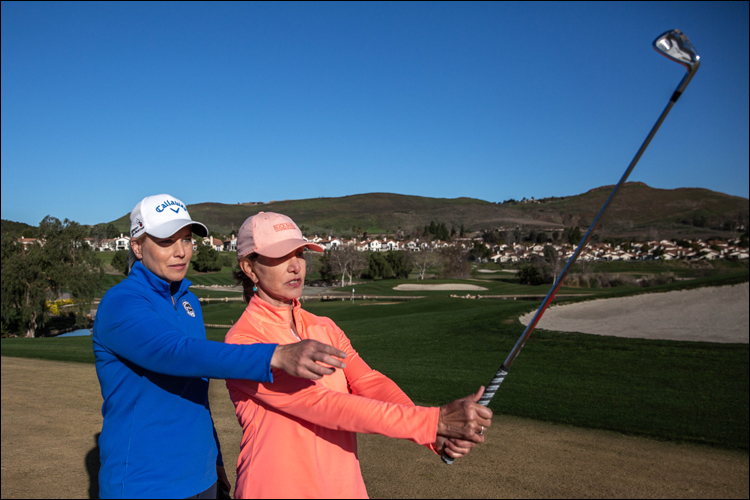 From a neurological perspective, two hormones play a key role in the feeling of confidence.  Testosterone, which males and females both have in their bodies, helps in the feeling of bravery, aids in decision-making during stressful times, and even encourages a bit of risk taking. Cortisol on the other hand, known as the "stress hormone", is released from the adrenal glands when we begin to experience difficulty, stress, and adversity. Too much cortisol takes a toll on our performance, while increased testosterone can make golfers feel like they are ready for the challenge. Research shows that by positioning one's body in a "power pose" (think of Superman with his hands on his hips and chest out, ready to take on the world) for as little as two minutes can decrease the cortisol in your system and increase the testosterone. Sharing this information with our golfers and students can be beneficial. When they get nervous on the first tee, coach them into standing in a powerful pose to change their hormone levels to help them be in a preferred state prior to that first shot.

Coaching confidence occurs when putting students through challenges, so they develop competency in adverse situations and actually see their success, contributing to building that confidence. Some examples include games on the course where every fairway hit requires the student to throw the ball into the rough and play the remainder of the hole. Consequently, hitting every green requires the golfer to throw the ball off the green and attempt to make an up and down. Making challenges hard increases one's tolerance for adversity, so when it inevitably occurs on the course, confidence will be riding high and competency will match. During on-range practice, coaches can create practice plans that require hitting different types of shots to varying targets and mimicking on-course experiences. Practicing hitting out of divots, uneven lies, and awkward yardages improves the player's competency level and ultimately increases confidence when the opportunity demands a particular type of shot.
There are several ways to cultivate confidence (e.g. self-statements, visualization, confidence resumes, and previous experience to name a few) and by creating challenges for our students, while improving their competency levels, we can influence golfers to perform their best, thereby creating confident golfers.
Dr. Alison Curdt is a dual PGA Master & LPGA Master Professional teaching in Los Angeles, California. As a specialist in sport psychology, Dr. Curdt helps golfers perform their best mentally and physically. Recognized as a Top Young Teacher by Golf Digest and a Top 8 Teacher to watch by Golf Magazine, Dr. Curdt has own numerous teaching awards including 2019 SoCal PGA Golf Professional of the Year, 2018 SCPGA Clubfitter of the Year, 4-time LPGA Western Section Teacher of the Year, 2016 SCPGA Teacher of the Year, and 2015 LPGA T&CP National Teacher of the Year. She was selected as an LPGA Top 50 Teacher in 2017  & 2019 and was inducted into the SoCal PGA Teaching Hall of Fame.