By Garrett Johnston
The PGA TOUR's Performance Center at TPC Sawgrass is quite comprehensive and user-friendly for card-carrying Tour pros. The back of the range, which is closed to the public, is one of the best practice areas found on any course. Players can practice shots from fairway bunkers, as well as an assortment of different lies.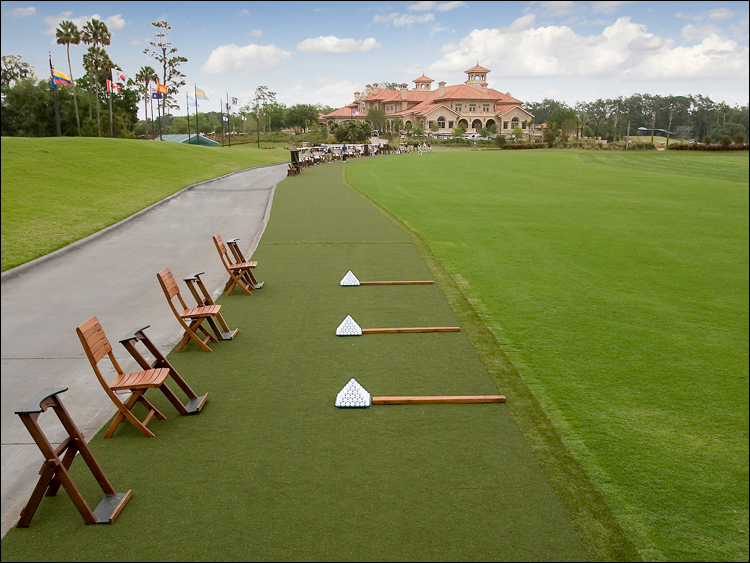 "For practice sessions out there, it offers three very good factors, variety, variety, and variety," says veteran professional Stewart Cink. "It's big, so you can create any kind of wind angle if you're hitting shots with left to right wind or right to left wind. You can go to the back and hit downwind or into the wind. Anything you want to do; you can create any kind of shot. It's big enough in all directions [so] you can pretty much hit any club in any direction. [There are] a lot of ranges [where] you can hit this or that way, but you run out of driving room."

Most TOUR players tell Golf Range Magazine that for their pre-round warm-up sessions, the designated PLAYERS Championship range doesn't differ too much from week to week TOUR stops. But it's the longer practice sessions on the back of the range that make a big difference with practice options."It's not the PLAYERS Championship range, but it's more that far end of the range that's really state of the art," says 2010 U.S. Open Champion, Graeme McDowell. "I love that short game area, all those little greens and wedge areas. The back corner is amazing for practice."

Two-time PLAYERS champion and two-time U.S. Ryder Cup Captain, Davis Love III appreciates the TOUR's commitment to the practice area. "It's incredible. I think [former PGA TOUR Commissioner] Tim Finchem and now Jay Monahan are trying to do what The Masters does and make everything they can the best," Love said. "It's first-class and it's one of the best places to practice on tour for sure. I drive down there from Sea Island. The targets are awesome for us, they've got it all."
Vaughn Taylor also likes the options on the back of the range to work on his wedge game. "There are a lot of little greens and targets only forty or sixty yards away that help you work on those half-wedge shots – something we don't always get to practice [that] well," Taylor says.
In the short game area, the options abound as well. "There's so many different little greens and lies and slopes and different types of grass, bunkers, everything. You could just create endless variety and practice any kind of shot that you're wanting to work on," Cink says. "Man, there's even different kinds of slopes for your stance and [others] for landing the ball…on those practice greens. You don't just always hit your chip shots onto the greens into the air; sometimes you're bumping it up against the hill. You can create any kind of short shot into a green that you want. It's great."

Keegan Bradley also enjoys the variety the back of the range provides. "It's awesome to be able to hit whatever kind of shot you want," Bradley says. "You can spend the whole day out there if you want."
Kevin Na's caddie, Kenny Harms feels the same way. "There are so many options for the players that they could be out there for the whole afternoon," Harms said. "But you don't want to expend that much energy, especially if it's the week of a tournament."
10-year Ponte Vedra Beach, Florida resident Billy Horschel likes what the facility offers. "It's really well-kept and designed very well for that week," Horschel said. "It's just very unique."
For more information regarding TPC Sawgrass, log on to https://tpc.com/sawgrass/.