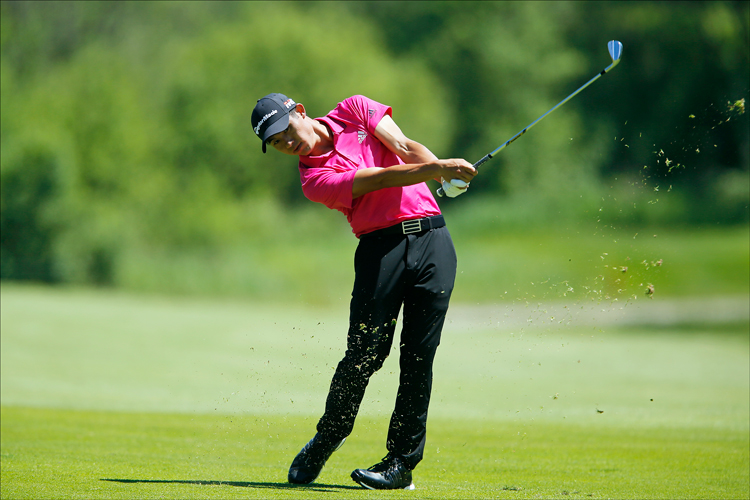 By Garrett Johnston
On today's PGA TOUR, the big three rising stars, Matthew Wolff, Collin Morikawa, and Viktor Hovland, all boast a PGA TOUR victory already. For Morikawa, the senior member of the three at 23 years old, there's so much to look forward to in his second full season on Tour after winning the 2019 Barracuda Championship.

Morikawa possesses the longest current streak of cuts made (21) on the PGA TOUR and ranks fourth in Strokes Gained: Approach-the-Green. The amicable University of California-Berkley grad produced a decorated junior and college career, and hasn't missed a beat during his brief tenure on TOUR.
Golf Range Magazine (GRM): You're one of the most proficient iron players on Tour, what does your pre-round practice routine look like?
Collin Morikawa (CM): I am? Well thank you (smiles). For me, my goal is to stay creative. Hit different shots. Don't get stuck just hitting full-swing 8-irons, full-swing 7-irons, or whatever club you favor. When I practice on the side on my off weeks, I like to play (simulated on the practice range) courses I'm going to play next on Tour. I like to…hit one shot [at a time] because you only get one shot. I play the course in my mind. Pick a pin and hit driver, then cut 7-iron and draw it in there. I kind of keep that for my warmup and that's kind of what I've always done. Even though I hit cuts a lot of the time, I need to see the ball work both ways just so I can kind of even everything out. So, for me it's just staying creative and seeing the fades, seeing the draws, and seeing my shots and visualizing how they're going to look in the air for me.
GRM: How long is your routine and is it trial and error to get there?
CM: I think it's definitely lengthened as I turned pro. I'm doing a little more chipping than I used to. So, for me, right now, it's about an hour, hour and ten in total, depending on where everything is situated and where the range is. It's always been close to an hour. I'm not a guy who likes to sit around there forever – I like to get moving. If I've got too much time on my hands, I just kind of get stuck and I don't stay as focused and sharp as I should.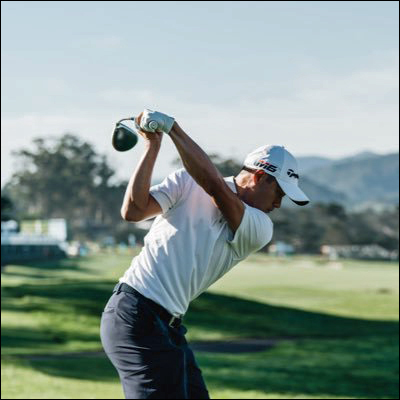 GRM: Why do you focus more on chipping now than in the past?
CM: I want to bring what I'm doing well on the range, with my iron shots, into my putting and chipping, and for me that means staying creative, hitting different shots. For me, when I get into chipping, it's just about hitting a bunch of different shots before the round, you don't know what you're going to get. You don't know what kind of lies you're going to have. But it's just about keeping your mind active – that's a big thing. The short game is a big part of my game that I need to keep working on – chipping, bunker play, putting. It's a work in progress, but for now it's just tighten everything up and keep it going.
GRM: What are some go-to drills for you in your practice?
CM: On the range I love to just put a glove underneath my left armpit. Then I'll hit a few shots to know I'm staying connected. It keeps me feeling connected on my backswing. If I'm not hitting it great the previous day, I'll do that on the range the next day. It's crucial to feel "right" going into your next round. That's pretty much the only drill I do on the range. For me it's just checking my alignments and checking the basics, making sure everything is lined up because if everything is lined up there, then we're good to go.

GRM: What's a good drill for weekend golfers to implement pre-round?
CM: I think hitting a lot of punch shots. Think about it, how often are you actually hitting a full swing shot, and if you are, for those people who are mishitting them, the punch-shot is going to go just as far and be just as consistent for you. So, why not work on the three-quarter strike, making sure you've got good contact with it and you're hitting down on it a little bit? Really, this game is all about contact. You're going to mishit some, but if you can get the solid ones to go straight where you want it, that's all you can ask for.
GRM: Weekend golfers show up with little time to practice – what should we do with our limited time?
CM: Get loose. I think the biggest thing is getting mentally prepared for what's ahead of you, whether it's a lot of fun with your buddies or if you're playing a big match against your friend. I think you need to feel ready, because when you're not sharp sometimes it takes you that five, six, seven, even nine holes and then you just realize "what just happened there?" and you don't want that to happen to you.