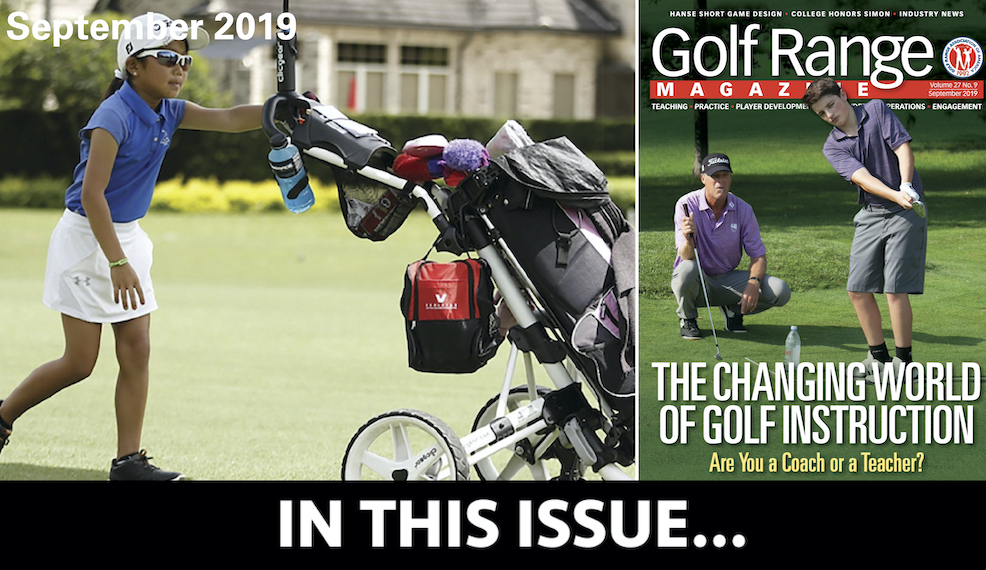 Club Building on the Move – PGA Professional Ed Mitchell, inventor of the Mitchell Machine, has now created a way to transform your practice range into a club-building studio.
Short Course Renovation to Accommodate Adaptive Golf – The Chaska Par 30, a public 10-hole par 3 course, has plans for a renovation with the goal of welcoming all types of golfers.
Classic Ohio Club Adds Innovative Short Game Area – Brookside Golf and Country Club announced the start of construction on a Brian Silva-designed short game practice area.
The Changing World of Golf Instruction –Are You a Coach or a Teacher?
Slow Play – It's our Responsibility as Golf Professionals to Pick Up the Pace. Educate the Youth on Pace of Play. 
Practice Putting like a Pro – Denny McCarthy led the PGA Tour in Strokes Gained-Putting in 2019, he shares his thoughts on preparing to roll the rock.
That's a Gimme – Concession Golf Club Set to Open the "Gimme" Short Course in November Along With Expansive Putting Course.
Honoring a Legacy – Bob Simon Golf Center named in honor of Hamilton College's longtime professor and golf coach.
Enhancements at South Fork Country Club– Gil Hanse Returns to One of His First Designs to Add Expansive Short Game Area.
Crafting a Great Event – The Range is the Perfect Place for Craft Beer Tastings.
WHOOP A Tech Tool That Measures Preparedness and Performance – If you tune into the PGA Tour a lot (like many of us in the industry), you may have noticed an inconspicuous looking band around the wrist of players like Rory McIlroy or Justin Thomas.
Discover more Golf Range Magazine content and industry news here.