The Range is the Perfect Place for Craft Beer Tastings
BY: TONY L. STARKS
The range can be the perfect place to engage your customers or members. Whether it's hitting balls, playing games, giving lessons or drinking craft beer, it's an area that can be utilized to deliver meaningful experiences.
CJ Meyer, the PGA Head Professional at Rochester (Minnesota) Golf & Country Club, first learned about GRAA Range Brews from Ryan Nolz – Pukka Headwear's Director of Sales. Nolz' company sponsored the events in 2018, which sourced local breweries and hosted craft beer tastings in three different markets across the country.
"After learning about the idea at a PGA Magazine Insider Conference from Ryan, we went back and presented the concept to our leadership. It was approved right a way," says Meyer. "In Rochester, which is a town of about 125,000 people, we have five craft breweries. We thought this would be an interesting opportunity to partner with some of them."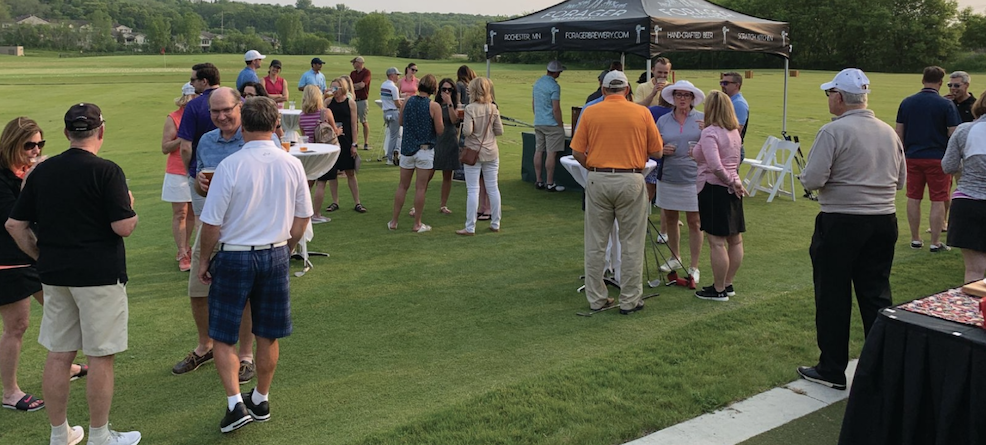 It was the perfect time for Meyer to host such an event, as well. The club had just completed a renovation of the practice range the prior summer (August 2018), which doubled the size of the area. Some added features were a 12,000-square-foot putting green and an all-new short game area. Furthermore, that spring the course was undergoing a restoration project and members were limited in the amount of golf they could play.
"We saw this type of social engagement as critical for our member retention," says Meyer. "With the course being inaccessible for part of the year, we had to keep the social activities going so that we could get members out to the club and having fun, positive experiences."
Meyer partnered with local favorites Forager Brewery and Little Thistle Brewing Co. – the latter of which also brought out a food truck that served personal pizzas.
For $15 a person, members were treated to unlimited beer samples and all the pizza they could eat. More than 125 people showed up on the evening and it attracted a wide demographic – everyone from 25- year-old junior club members to a 95-year-old honorary member.
"Some of the feedback we got was unreal," says Meyer. "Members told us this was the most fun golf event we've hosted, and we didn't' even have to go on the course."
To scratch the golf itch, a splash pool was put 60 yards out onto the range for a special contest. Anyone who could hit a ball into the pool and make a "splash" would receive a $5 shop credit.
"The craft beer tasting really exceeded our expectations and even upped shop revenue a little bit through the splash pool contest," says Meyer. "We'll certainly be doing it again."