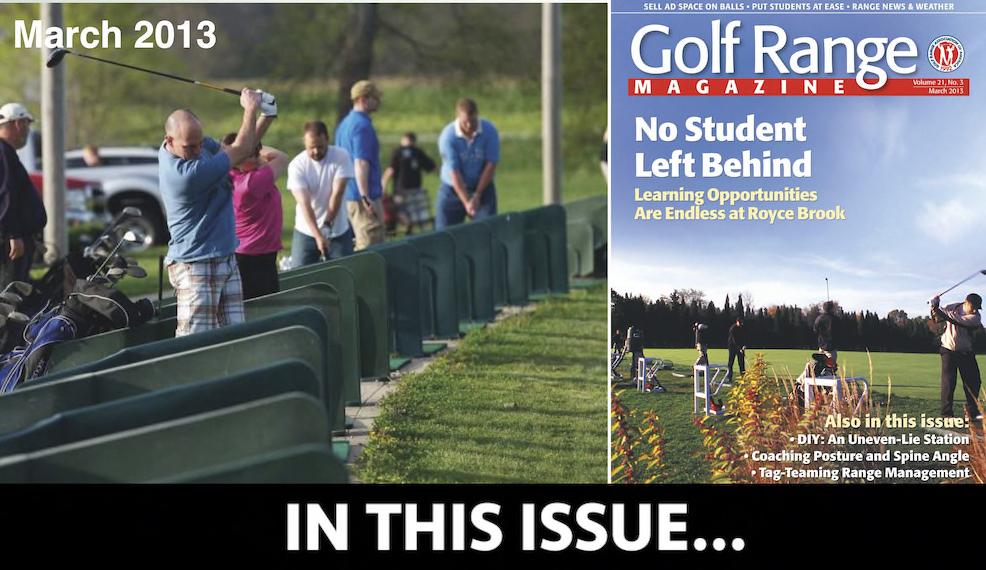 A Wide Range of News – Keeping you up to speed on trends in the golf practice-and-learning sector.
Numbers Hint at Value of Gear-Fitting Services – Survey answers show frequent range users feel general enthusiasm for tech clubfitting – but most need encouragement to get active.
Public, Private or Resort – The Range Brings Business – The range is an important piece of the golf operations puzzle, regardless of facility type. It can be a partnership marketing tool, a gear-selling machine or a way for members to hone specific skills.
Who's Minding the Range? (Most Likely, It's a Team Effort) – As range revenue grows and the "welcome center" function becomes more important, deciding whether to assign a full-time manager becomes a question to grapple with.
Royce Brook: Building Golfer Skills to Boost Engagement  – If you build it, they may come—they may not. But as one New Jersey improvement mecca shows, golfers who play better are likely to play more often and spend more money.
For Uphill, Downhill and Sidehill Shots, a Practice Platform – Amid the thousand-plus details and decisions his new golf academy required, Mike Bender found time to craft an uneven-lie station his students now flock to.
Golf Range for Sale–If You Really Search – The asset value of ranges and executive golf properties falls and rises. These days there is growing interest, though buyers and sellers don't seem to connect very easily.
Discover more Golf Range Magazine content and industry news here.