Amid the thousand-plus details and decisions his new golf academy required, Mike Bender found time to craft an uneven-lie station his students now flock to
BY: DAVID GOULD
There's quite a tale to be told of how renowned golf instructor Mike Bender built himself a world-class golf academy in Lake Mary, Fla. –from scratch. That inspiring story begins with new ownership at Bender's longtime host facility, Timacuan Golf Club, and differences in philosophy that spurred Bender to relocate across town. Packing up his 2009 PGA National Teacher of the Year award, he moved in 2011 to the far end of the range at Magnolia Plantation Golf Club. That's where a lofty ambition first took shape in Bender's thoughts.
Visit that site today and you'll see what $1.1 million (Bender's own money, plus backing from a few partners) and long months of planning and construction can produce. The brandnew Mike Bender Golf Academy, ultra-modern inside and out, is a dream facility for any dedicated teaching professional to ply his trade in. A full survey of the finished product–including some entertaining highlights of the labor pains–will likely appear in these pages at some future point. For now, it's worthwhile to offer a glimpse of just one specialty item devised and built by Bender for the benefit of his students. (That roster, by the way, includes PGA Tour players like Zach Johnson and Jonathan Byrd, as well as newer golfers who are simply trying to figure out the basics of shotmaking.)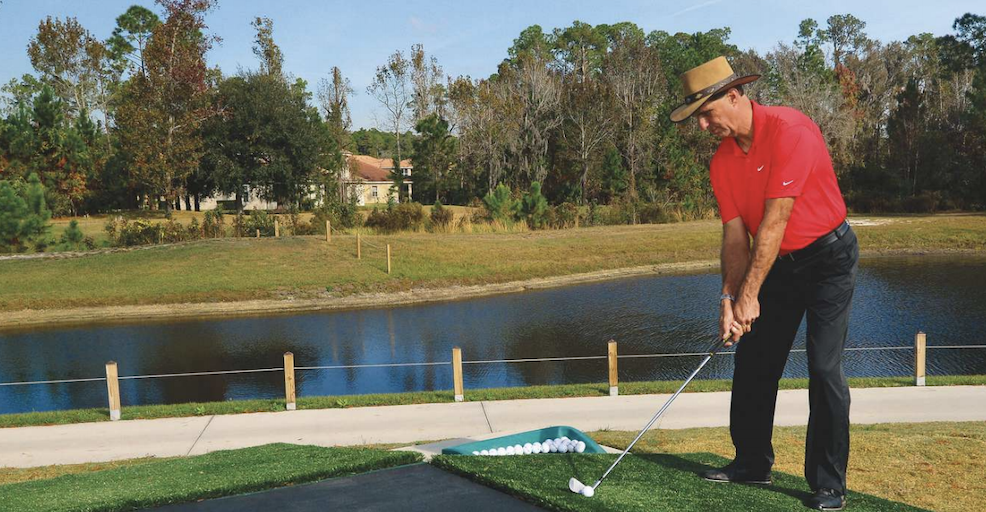 They gravitate willingly to the uneven-lie station Bender has established at the east end of his wide lesson tee. Set up on a concrete pad, the station is a heavy-duty, matupholstered, framed-and-decked creation. In devising this practice amenity, Bender had a sense his students would be drawn to it instinctively. That's because most improvement-minded players view the practicing they do on dead-flat surfaces at a normal golf range as a source of false reassurance. Eventually that set of conditions catches up with them– otherwise they wouldn't express such leeriness about "taking my swing from the range to the golf course." In the comfort zone of their laser-level range bay, proper impact and ball flight can happen too easily.
"Players at our academy love the fact that they this station helps them practice the way they play," says Bender of his four-plane, custom-crafted rig. "At first they're surprised to see it, then they give it a try and the comments have all been very positive." After a while, according to Bender and his staff instructors, golfer comments turn to wondering out loud "why they've been to so many ranges and never seen this sort of thing before."
This concept is simply an extension of the philosophy long espoused by this teacher, about ways of practicing effectively. "Golfers spend time hitting balls thinking that it will help them get better, but in most cases they're just getting exercise," says Bender. "We show students how to set up practice stations that provide feedback when they're doing it correctly and when they're not. To make practice more productive, we teach them drills and games that measure their practice with consequences that promote a higher degree of focus."
If you get the urge to replicate the Bender uneven-lie station, here are some teaching concepts that its inventor brings to the learning process.
The station is for training all skill levels. No matter what your handicap is you need to know the necessary setup and swing.
There are various drills that can be done to help the student adjust as they work their way around the platform. You can also use the tilted lies to address problems a golfer experiences with his basic (level-lie) swing. One natural example: If a player needs to stay behind the ball on the downswing, you can use the uphill-lie simulation to provide the swing feel they need.
Not all uneven lies are created equal. If a golfer is dedicated to stroke-saving practice, they will place balls all over the station, not just on the uphill and ball above-the-feet panels. "From what I've determined," says Bender, "the downhill quadrant is where the greatest number of golfers will struggle."
Bender showed a knack for working with tools from an early age and over his career has developed his carpentry skills to an unusual degree. Cutting, drilling and fastening in his workshop, he framed out the hitting station with sturdy angle iron then built wood trays that his mats sit in. "I built the sections in my garage, making all four sides the same," says Bender, "then I bolted it all together when I got to the course." Thanks to the DIY factor, soup-to-nuts cost for Bender's unique practice amenity was about $1,500. "The major cost of the whole station is in the mats," he says, "which are about $300 per side."
Ted Lockie designed the flexible disk range-picker unit and Jack Grout came up with a paint jig to stripe his practice balls, back when he was teaching the young Jack Nicklaus. Ingenuity has long been a staple of golf practice and instruction–as this golfer-pleasing innovation at the new Mike Bender Golf Academy plainly proves.