The asset value of ranges and executive golf properties falls and rises. These days there is growing interest, though buyers and sellers don't seem to connect very easily
BY: MIKE CULLITY
When Rusty Beville bought the Golf Center of Arlington eight years ago, he envisioned hanging out at the greater Dallas practice range in retirement while his son, Mark, ran the business. But early last year, the former corporate salesman decided to sell the facility, which has 65 grass and artificial-turf hitting stations and a 36-hole putting course, among other amenities.
Despite a prime location between Dallas and Fort Worth, the golf center has seen its sales slip in the wake of the Great Recession, prompting Beville to recalibrate his retirement dream. "The last two years, we're probably 30 percent off what we were four years ago," the 67-year-old estimates. "There's the profit right there, so my son doesn't want to run it. And now I'm at an age where I just don't want to work at it anymore."
After he put the golf center on the market, however, Beville's phone didn't exactly ring off the hook. "There aren't a whole lot of buyers that fit," he says. "There haven't been a ton of calls." Still, with the 29-acre property listed for sale at $2 million in mid-January, Beville was optimistic about consummating a deal with a prospective buyer who has proposed turning the golf center into a soccer complex. And despite being an avid golfer, he was reconciled to the redevelopment possibility. "The guy has a good idea," he acknowledged.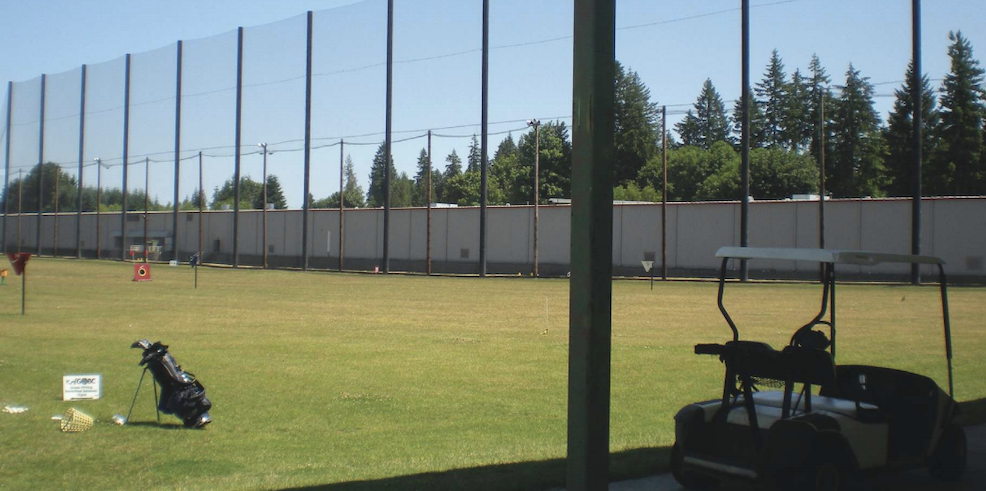 Although the specter of repurposed golf ranges has become real amid the nation's extended economic malaise and the game's stagnant demand, there are prospective buyers who see opportunity in owning and operating a range. In Indiana, for example, real estate broker Scott Langdon has been marketing the Noblesville Golf & Batting Center as both a recreational facility and simultaneously as land with redevelopment potential.
"The interest we've had is from people wanting to buy the business," Langdon says. Indeed, despite the reduction in consumers' discretionary spending that accompanied the economic downturn – with recreational activities among the first expenditures to be cut, a reality Beville's experience in Arlington reflects – the outlook for golf ranges and family fun centers appears positive amid the nation's drawn-out recovery, according to a December report from market research firm IBISWorld Inc. "Increasing consumer sentiment and consumer disposable income will generate demand, as will increasing prices for external competitors, like amusement and theme parks," industry analyst Radia Amari says in the report.
Passion for golf and the upside potential of owning an enterprise that offers reasonably priced recreation serve to motivate prospective range buyers. But for all their enthusiasm about entering the business, potential buyers can encounter challenges when shopping for a range. Although searching "driving ranges for sale" on Google directs one to sites that promote available commercial real estate (LoopNet.com), land (LandAndFarm.com) and businesses (BusinessBroker.net), the sites yield relatively few ranges for sale among hundreds of listings. And although the National Golf Course Owners Association lists a handful of real-estate brokers specializing in golf properties (see golfcoursemarket.com), these brokers deal primarily in golf courses, not ranges.
Someone entering range operations with an urge to upgrade their acquired facility is likely a contributor to golf overall, but as more acreage and amenities get added to any property listing, the newcomer's prospects dwindle. It becomes harder for a sole entrepreneur with the normal friends and-family backing to swing a deal for anything but the standalone range plus a snack bar.
Because most ranges are independently owned small businesses, their availability for purchase often circulates by word of mouth, which can be an obstacle for first-time buyers. "I've gone on the Internet, but it is very difficult to find who's in the market to sell," says Bruce Robertson, a Connecticut businessman who began looking for ranges to buy in mid-2012. "It seems as though when they are sold, they are sold quietly."
As a former investor in custom-clubfitting company Hot Stix Golf, Robertson is no stranger to the golf industry and sees opportunity in range ownership. "It's an underserved market," the 65-year-old says. "We in this country are retiring 10,000 people a day, or at least they're hitting the age of 65. The younger people are trying to come in. And so it's the combination of trying to find something that can entertain people who have time on their hands but may not want to commit four hours," Robertson says. "You can do things for family entertainment purposes and yet it's not that expensive, and just as importantly it's time shared."
With an interest geared more toward investment than day-to-day operations, Robertson envisions hiring a team of employees to manage a standalone range with a significant custom-clubfitting operation in an area where golf is played year-round, such as Atlanta or Phoenix/Scottsdale. But most of the available ranges he has found during his search have had a golf course attached, which would be more of an undertaking than he has in mind, he says.
Fellow first-time buyer David Fink has had a similar experience. "I haven't had a lot of success," says the 35-yearold Pittsburgh resident who has been looking to buy a range off and on for the last year or two. "There aren't many ranges I've found that are for sale standalone. A lot of places you have to buy the golf course with the range, which I'm not really keen on doing, particularly just starting out." He sees it as a matter of scale. "A range is more manageable, less maintenance, less overhead and something that I could run pretty much by myself," Fink says.
A professional handball player and administrator who played pro golf on Florida mini-tours for a spell in his 20s, Fink is an ardent golfer who has harbored a desire to own a range for the last five or six years. "It's something that I think I'd be really passionate about, because I love golf," he says. "Personally, I could be on the range all day. And I think that there is a market for it, because there are people like me who like to hit balls all day, and then there are people who have never played before who just like to come out and whack balls around. And it's a fun thing for families to do together."
A story like that of Jeff Olive or Lucas Cohen is what would-be buyers who search property ads are hoping to emulate. Olive is the successful owner of Airport Golf & Batting Center in the Olympia, Wash., suburb of Tumwater. It's a 20-year-old operation that Olive has been in charge of since 2011, though his first affiliation with the business was as a volunteer worker. Owing to the new owner's energy and positive community relations, Airport Golf (it's nearby the Olympia regional jetport) has received generous media coverage and impressive acceptance by the local golfer market. Lucas Cohen, as reported in last September's issue of Golf Range, is a PGA Professional who carefully and strategically negotiated the purchase and improvements to a range in Greenport, N.Y. that he operates now as New York Golf Park.
For his part, David Fink would like to acquire a range in the Pittsburgh area, but is open to pursuing ownership opportunities further south, possibly in North Carolina, he says. Despite his research and inquiries, he has yet to make an offer, but in mid-January he was planning to look at a family entertainment center for sale outside Pittsburgh that includes a 27-station range and an 18-hole pitch-and-putt course. "I'm going to have a discussion with the owner about the finances and the cash flow and see if that might be an opportunity for me," he says. "I guess I'll know when I see it and take a look at the books." And having found few promising leads on existing ranges for sale, Robertson is evaluating a venture to develop a new range in Connecticut's Fairfield County with a potential partner whom he met through the course of his search. "We're just taking one step at a time," he says.