If you build it, they may come—they may not. But as one New Jersey improvement mecca shows, golfers who play better are likely to play more often and spend more money
BY: JOHN TORSIELLO
The practice and teaching component at Royce Brook Golf Club–and the first-rate infrastructure supporting it–is a linchpin of the club's success. Together they are all about keeping the members engaged, creating better golfers, bringing new players into the fold and profiting by providing all this service in superior fashion.
The crown jewel of the Hillsborough, N.J. practice complex is its Academy of Golf Instruction. That's where area golfers go for a personalized curriculum, state-of-theart equipment and climate-controlled classrooms. It all combines to create that true "academy feel" as a setting for lectures, video review and chalk talks. The Academy's target audience, according to Joe Febonio, PGA Head Golf Professional at the club, is wide. It includes men, women, seniors, juniors and young children, covering their needs with an aggressive lineup of programs such as multi-day schools, clinics, camps and individual instruction plus custom clubfitting. PGA Director of Instruction Anthony Latham teams with Febonio to serve this receptive customer base.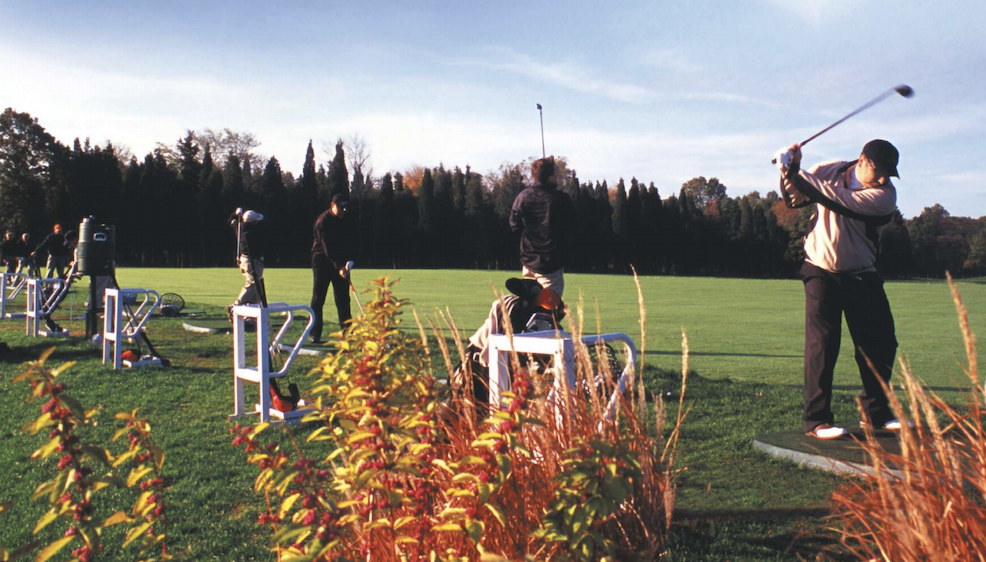 The Club markets its practice facility and Golf Academy "very differently" to members and public, says Royce Brook General Manager Dan Guinle. "Members usually are seeking a coaching relationship or are already accomplished golfers. We have season-long lesson packages and short-term, spur of the Saturday morning member clinics," Guinle explains. Royce Brook GC has two 18-hole golf courses, one private, the other daily fee. Both of these Steve Smyers layouts appeal to serious players. The lion's share of Academy revenues come from the public side, according to Guinle. "Public golfers are aspiring to elevate their golf experience, so they naturally look for ways to improve," Guinle says. "Lesson series, clinics, and any number of combinations thereof are offered. Our kids' programs are off the charts and are almost exclusively public."
The club's 24-acre practice facility includes a double-ended tee that is divided into private and public sections. Members hit from a bellcurve tee line and some pound hundreds of balls, says head professional Febonio. Members also have a three-green, short-game area that permits practice of shots from all types of lies and scenarios. There are also practice putting greens to accommodate the members and public golfers.
Febonio says that the majority of traffic to Royce Brook's practice facility stems from the club's range membership or Player Development Program (PDP). "We consider the PDP market a feeder market for our more robust programs–including those for daily fee players, membership, and the Academy." He added that a remarkable 80 percent of the Club's members use the range, 25 percent take at least one lesson, and 15 percent get involved in some capacity with the Academy.
Royce Brook creates programs that attempt to drive additional spending per visit from PDP players, such as retail sales, whether it be in the Club's pro shop, custom club fitting operation, or bar and grille specials. Range membership data is stored in the Club's emailing system. Because these individuals are regular visitors to the club, management has found they enjoy having the opportunity to take advantage of last-minute tee-time specials the Club can offer to fill up a slower part of the day. Guinle says the dollars directly generated by the range contribute fairly modestly to the club's annual revenues. "However," he interjects, "this is an example of the whole being greater than the sum of the parts." Guinle describes the teaching and practice area as "essential" to the overall experience at Royce Brook. "We use it as a laddered engagement to move guests from a $5 bag of range balls to a $7,000 membership, although it doesn't happen overnight. And we couldn't sell a $100 green fee as easily without a practice area."
Royce Brook's West Course slopes at 142 maximum and Smyers is known for building courses that are challenging. Guinle says the West Course does indeed attract a high percentage of skilled players. "The member handicap roster has a lot of players with handicaps of 10 or below." That said, it isn't a given that range use (including lessons and Academy offerings) are accessed more by skilled players. "Not all the good golfers hit a lot of balls. But the younger good golfers hit a ton of balls. Among those who practice a lot, there is a substantial amount of time devoted to short-game work."
The teaching staff at Royce Brook is estimable. Febonio spent five seasons at the Essex County Club in Manchester, Mass., six seasons at Fiddler's Elbow Country Club in Bedminster, N.J. and five winters at the Boca Raton Resort in Florida. Other members of the teacher corps include Anthony Latham, PGA Director of Instruction, with 17 years in the business of making golfers better. He is known as a standout teacher of ladies and juniors–especially at the beginner level. Warren Raatz, along with his instruction career, has been involved in the game as an editor and photographer for numerous books with Mike Adams including "The Laws of Golf" and the "Play Better Golf" series. Raatz has also made appear – ances on the Golf Channel and CNN Golf Tips. Bill Balash, PGA Teaching Professional, has served as a lead instructor for ESPN Golf Schools, as well as serving as International Director of Instruction for Golden Bear Golf, Inc. He was director of instruction for Golf Digest's Golf Workshop-Hong Kong, an education faculty member for the PGA of America and director of instruction for the PGA National Resort and Golf Club.
The Club offers private lesson programs that include a complete game improvement series, on-course instruction, short-game instruction, a beginner series, full swing instruction, video lessons, and personal golf coach lessons. The latter consists of unlimited private lessons, video analysis, equipment evaluation and club fitting, playing lessons, organized practice sessions, and a physical fitness program. Full-season pricing (with a PGA Class A member) costs $3,000. That curriculum costs $2,500 with a PGA apprentice.
Royce Brook's golf schools, which run from April into September, provide plenty of variety and pricing tiers. The catalogue includes a one-day school for $399, a three-day Signature Golf School for $799, a Full Swing School priced at $225, a short game school for $225, corporate schools that are custom-designed to the client and various schools aimed at the young golfer. There's a "College of Golf" ($3,500 per season) that is designed to prepare students for high school and/or college golf competitions that is limited to 12 students, ages 12 to 17 that have an established handicap index not greater than 12.0. The program includes daily clinics on the short game, full swing and physical training with four hours of instruction each day and nine holes of golf.
Each participant also receives free golf privileges during the months of July and August (when the schools are conducted) after 2 p.m. The Club also offers several ladies programs, including a popular "Business Women's Guide to Golf" for $175 that prepares female players for golf events in the corporate world. Yes, it's a menu that befits a classic New Jersey diner—and the net effect is to drive home the serious and ambitious game-improvement service this award-laden golf facility thrives on.