As range revenue grows and the "welcome center" function becomes more important, deciding whether to assign a full-time manager becomes a question to grapple with
BY: MIKE CULLITY
For pilgrims drawn to Myrtle Beach's Barefoot Resort, the facility's 28-acre practice range is a bustling hub. Each spring the range hosts foursome upon foursome of Northerners eager to work out winter kinks before testing their games on the resort's daily-fee Greg Norman, Davis Love III and Tom Fazio courses. And on summer evenings vacationing families often swing away under the lights before or after visiting the pub inside the adjacent headquarters building, which also houses a state-ofthe-art Callaway Performance Center for custom clubfitting.
Last August, the Greg Norman Champions Golf Academy opened a 9,500-square-foot training facility on the back end of Barefoot's range. With the academy's students peppering the landing area with hundreds of additional shots daily, general manager Dave Genevro estimates that golfers will strike approximately 5 million balls annually on the range in the coming years. Although Barefoot's range functions largely as an amenity, with green-fee-paying golfers receiving a complimentary bucket before their rounds, it nonetheless generates 3 to 5 percent of the golf operation's annual revenue, Genevro says. But despite its brisk traffic, the Barefoot range does not have a full-time manager.
That's not to say that the range lacks management. Working under Genevro, PGA apprentice Andrew Bailey devotes 10 percent to 15 percent of his time to managing the range, a task that includes overseeing 12 part-time employees, most of them retirees, Genevro says. Bailey's duties also include scheduling the range for picking, ensuring an adequate ball supply and supervising the shuttle service that transports golfers from the clubhouse to the range.
With the economy still far from robust, employing a manager devoted exclusively to the range is a luxury that's simply not feasible, Genevro acknowledges. "At times of the year it would be nice to have somebody over there full time, but we've done everything we can to keep our expenses down," he says.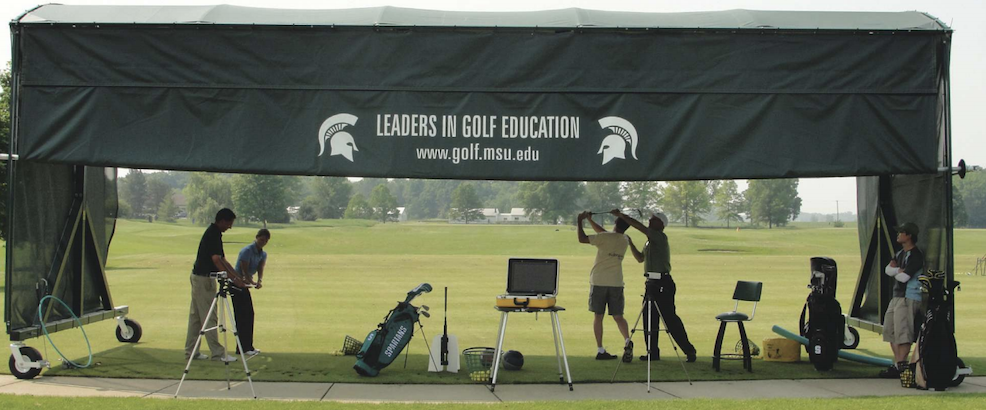 Although one would be hardpressed to find a full-time range manager at most golf facilities, the level of management resources allocated to the range usually corresponds to the range's impact on a facility's bottom line. "It depends on the level of use it gets, and whether it's a profit center or just an amenity," says Joe Dahlstrom, chief operating officer of course management company Paradigm Golf Group. "But I think that there needs to be somebody responsible for the range, because it is a big part of either the guest experience or the overall financial success of the club."
At Paradigm-managed Desert Pines Golf Club, an 18-hole daily-fee facility in Las Vegas, the range plays a significant financial role. The twotiered, 56-stall facility tees up balls automatically and is climate controlled, employing misters to cool golfers in the summer and heaters to warm them in the winter. Attracted by bells and whistles that make Desert Pines the Bellagio of Vegas ranges, golfers swat an average of 10,000 balls a day at the facility, which generates 30 percent of the golf operation's annual revenue, general manager Charles Fralix says.
To keep the range running smoothly, Fralix has designated an outside supervisor to manage range and cart services. On most days, the supervisor oversees eight to 10 parttime employees – most of them young, aspiring golf professionals – who are cross-trained in both areas, Fralix says. In addition, Desert Pines' cart mechanic has been trained to troubleshoot and repair the range's automatic ball-dispensing machines, Fralix adds. According to Dahlstrom, about $60,000 of Desert Pines' annual labor costs are allocated to managing and operating the range, which is open from sunrise until 10:30 or 11 p.m., depending on the season.
Like Desert Pines, the practice center at Forest Akers – the 36-hole daily-fee facility on the campus of Michigan State University – is busy year-round, thanks to the 2009 opening of a 23-stall heated range building, not to mention the use of a snowmobile to groom and pick the landing area during frigid East Lansing winters. The 20-acre facility includes a three-acre grass tee for the public, a 20,000-square-foot putting green, an extensive short-game area and two additional grass tees for the instructional staff and Michigan State golf teams. The practice center accounts for 10 percent to 12 percent of the golf facility's annual revenues, says PGA general manager Steve Ruthenberg. Moreover, practice center sales have increased by an average of 18 percent annually since 2009, adds PGA operations manager Bryan Harris.
Underscoring the practice center's importance was the 2012 Arthur Hills redesign of the adjacent 18th hole on Forest Akers' East Course. "We moved it further away from the range to give us future room for expansion," Ruthenberg says. "The golf ball continues to fly further, so we wanted to make sure the range accommodates technology."
One of two operations managers under Ruthenberg, Harris manages the practice center. His responsibilities include staffing – Harris oversees one full-time employee and about 50 part-time workers during the summer – scheduling of picking and mowing, managing ball inventory and supervising instructional and loyalty programs. "It's 40 to 50 percent of what I do at the moment," Harris says.
Because range managers at most facilities typically wear other hats, training and empowering part-time range staff is crucial, Genevro says. For example, with an employee who drives the range picker on call daily, Barefoot relies on other part-time staffers to decide when the range should be picked, based on levels of activity and ball inventory.
"The guy who's on call will phone or email to see if he's needed, and a lot of times we allow an employee on site to make that decision for us," Genevro says. "Because the pro in charge is multitasking, allowing competent staff to make some decisions for you is important." With a bit of innovation along these lines, successful golf staffs are taking group responsibility for the practice center and, apparently, managing just fine.