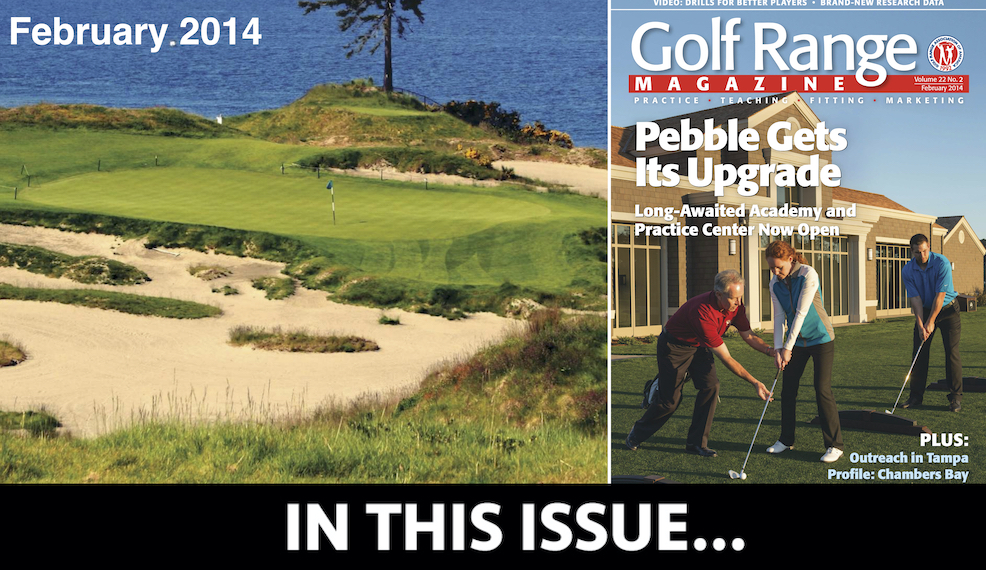 Comprehensive New Range Survey Delivers Vital Data – Thanks to an enthusiastic member response, the current GRAA Operational Survey is yielding timely and reliable stats to guide range operators.
What Do You Get the Golf Resort that Has Everything? Its Own Full-Scale Learning Center – Pebble Beach was always the golf property that didn't need a stellar teaching and practice amenity because its course was so big a draw. Now the iconic resort has an academy complex second to none.
Just Beyond the Spotlight, a Tampa Golf Center Brings Enjoyment to a Wide Audience – Since opening the Lutz Executive Golf Center in 2002, Beth Winkler Kaufman has brought a spontaneous, passionate atmosphere to one of the most inclusive golf facilities you'll find.
Split Personality Leaves U.S. Open Course Pondering its Practice Amenity – The USGA, now very public golf-oriented, is taking its 2015 Open to Chambers Bay. Should the mighty muni on Puget Sound have a practice range that's a bit more polished?
Discover more Golf Range Magazine content and industry news here.