Since opening the Lutz Executive Golf Center in 2002, Beth Winkler Kaufman has brought a spontaneous, passionate atmosphere to one of the most inclusive golf facilities you'll find
BY: CHRIS LEWIS
Golf has been opening up and reaching out. The facilities you would call "exclusive" are dwindling in number as a welcome-mat policy – plus programming to back it up – is becoming more the norm. When the golf industry convenes high-level forums and summits, a principle activity is brainstorming new ways to greet and embrace new players.
At times like these, it's worth remembering that player development in golf has historically been an act of individual passion and conviction. The pied-piper approach, driven by a personal and almost evangelical motive, is what Walter Keller, Joe Jemsek, Leo Fraser, Kim J. Brown and so many others were all about. Even as the industry searches for player-development systems and practices that can be widely adopted, that heart-and soul element can't be forgotten. A modern-day exemplar of it is Beth Winkler Kaufman, who learned the game in exclusive surroundings and got inspired to bring golf far beyond those confines. For 20-plus years, Kaufman was a serious amateur golfer, playing in tournaments up and down the Eastern Seaboard. She savored the experience of individual competition, knowing she would succeed or fall short based solely on her own performance. But as time went by, the high-prestige environment of member-only golf ceased to provide a comfort zone.
"I was a member of several country clubs and I realized that some golfers were simply not welcomed at these clubs," Kaufman says. "The game had given me so much joy throughout the years that I wanted to give the public something back – by building a family-friendly establishment that everyone could enjoy." In 1991, Kaufman began searching for property somewhere in the Tampa, Fla., area. She needed enough acreage to build a golf facility where seniors, children, and the physically challenged could learn the game in a laid-back atmosphere. Her vision for the facility included a pro shop, a par-three course and a driving range to accommodate golfers of all ages and skill levels. It would cater to newer players looking to take a private lesson, attend a clinic, compete in the golf equivalent of a "fun run" and generally bring an enjoying version of the royal and ancient game into their lifestyles.
After years of searching, Kaufman found the perfect location to achieve her goals, a 32-acre parcel near a lake in Lutz, Fla., a suburb located approximately 20 minutes north of downtown Tampa. Throughout the ensuing months, she worked with local builders and course designers to create a driving range and par-three course. By February 2002, the facility, named The Lutz Executive Golf Center, was opened for business. Four driving ranges, along with a 3,000- square-foot chipping green, a 3,400- square-foot putting green, and an area devoted entirely to bunker practice, were built. The entire driving range complex has in-ground lighting. To Kaufman it's the ideal system for all-hours golf – functional even when the range's turf-grass is in a heavy maintenance mode.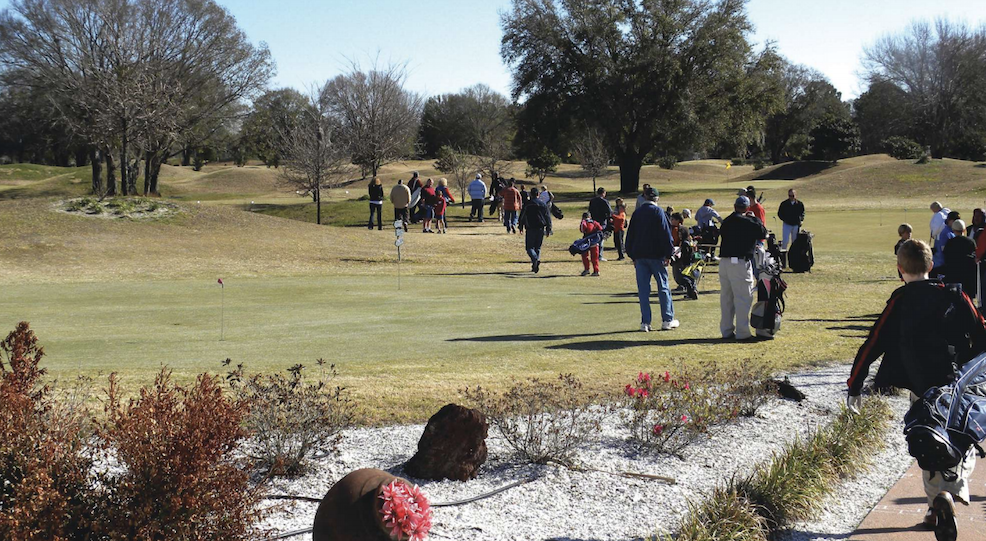 "Conventional overhead lighting can produce glare, making it difficult to follow ball flight," Kaufman says. "In-ground lighting solves that problem, while also reducing light pollution, which our nearby neighbors have certainly welcomed."
The Lutz Executive facility has one section of range with a steel structure designed by Kaufman to protect patrons from the elements. Adjacent to it, a grassy area has been created for short iron practice. And, as a sign of the center's unique approach to detail, each of the range's balls is personally culled and striped by Kaufman or her staff members. The golf center's par-3 nine-hole course was designed by a course architect who declined credit. "Usually he sticks to designing regulation courses, but he believed our par-3 course would be a challenge to create, so he wanted to get involved," Kaufman says. "Even though he designed the course, I still helped with the arranging of some of the holes, as well as the creation of a man-made pond and waterfall."
Each hole ranges from 85 to 164 yards, providing a true test to golfers' short games, demanding a decent technique in one's wedge and short-iron shotmaking. Some holes have elevated tees, others have elevated greens. Hazards are visible throughout the course, as some holes are either played through trees or are surrounded by water. The course's signature fifth hole, known as The Marsh, is 164 yards long, disturbing a player's short- iron rhythm and forcing them to swing the longer sticks.
"Our greens and fairways are in great condition," she says with visible pride. "The course's plantings are beautiful and every hole is named for the plant that thrives on that specific hole. Everyone who frequents the course appreciates its beauty." Al – though Kaufman and her staff members have a strong aesthetic sense, they never lose sight of the center's true purpose: to serve people in need. On most Sundays throughout the school year, the center hosts "Player's Club" sessions designed for children aged four to 17. A maximum of 15 students attend the sessions to learn about the rules and etiquette of the game and to compete against one another. Physically and mentally challenged children are also encouraged to participate.
"My staff and I are involved in getting as many disabled children to begin to understand that they can participate in this great game," she continues. "All of the children and their families are very special to us." For Kaufman, the interaction with disabled children is personal. Her granddaughter suffered a stroke when she was just seven weeks old; since then, she has gone on to attend college, in spite of the physical and mental obstacles she has encountered. "If they can dream it, they can do it," she states. "Nothing we do for any child is ever wasted. I truly believe the best thing to spend on children is your time."
During the summer, Kaufman and her staff also host a kids' camp, which concludes with a "Mini Masters" Extravaganza in August. A field of 34 children with disorders ranging from Down Syndrome to Autism spectrum disorder, attend the camp and compete against one another in individual or scramble divisions. They have four opportunities to win trophies during the extravaganza – through putting, chipping, or closest to the pin contests, as well as the on-course competition. Kids who are unable to afford the camps, regardless of their circumstances, are invited to participate free of charge.
"So many of the children that attend our programs are from broken homes, without parents, or they very likely have parents who are unemployed," says Kaufman. "All of these children are treated with kindness and great respect. That is my passion."
But Kaufman's philanthropy is not limited to young people only. All year long, the center also hosts injured veterans, inviting them to play the par-3 course or practice at the ranges for a discounted rate or, if necessary, free of charge. The center's pro shop also gives away used, donated clubs and bags throughout the year. Products such as gloves, hand-painted hats and shoes, golf books, and snacks are discounted. Since opening in 2002, the center has given away thousands of free buckets of range balls and rounds on the par-3 to local churches, charity organizations, and fundraisers. "People are often shocked and excited that someone is helping them," says Kaufman, who feeds off that energy and the glow of gratitude.
In addition to hosting tournaments for groups such as the Foundation Fighting Blindness and the Juvenile Diabetes Research Foundation, Kaufman, along with Florida-based touring professional Gary Burdick, offers half hour or hour-long group and private lessons, at discounted rates, as time permits. Lessons are typically hosted either outside or within the center's indoor teaching facility.
"The main object for any instructor is having the student feel comfortable. Although I am an advocate of the mental side of the game, I also stress the importance of grip, posture, stance, and follow through," she explains. "Since I teach them to hit, chip, and putt all in one lesson, I never want clients to feel obligated to continue if they aren't interested. But, of course, I am always happy to teach them again." While teaching children during "Players Club" events or summer camps, Kaufman and Burdick mainly focus on providing an educational, yet entertaining, period of instruction.
"Depending on their ability to focus and their desire to learn, I will teach them the basics while making them laugh," says Kaufman. "I want them to enjoy the game of golf, as well as their time with me." Although her passion for instructing children is apparent, Kaufman and her staff also provide golf clinics to players of all ages. Nearby churches use the center for various golf programs, while female golfers are invited to attend clinics hosted by the center, regardless of their skill levels or experience.
During such clinics, Kaufman and Burdick generally focus on the scoring zone, shots within 100 yards from the hole. The importance of driving, which Kaufman believes recreational players are "mesmerized by," is not overlooked, but a majority of the lessons focus on putting, as well as short iron, bunker, chip, and flop shots. "Without question, I am an avid fan of the game of golf, but, above all else, I am passionate about helping others, especially children," Kaufman says. "I believe people should look for the good in everyone they meet and respect their journeys." She adds, "I can't imagine keeping the center open without being able to mentor these children I have met and come to know."