Pebble Beach was always the golf property that didn't need a stellar teaching and practice amenity because its course was so big a draw. Now the iconic resort has an academy complex second to none
BY: SCOTT KRAMER
When your brother-in-law finally splurged on his dream golf trip to Pebble Beach, the hour-long debriefing he gave you probably contained no mention of Pebble's driving range. Compact in size and basic in its configuration, the old range at the famous links hardly deserved mention as an "amenity."
That was then, this is most assuredly now. Golf facilities up and down the prestige scale have been competing and jostling for best-in-class on the practice-and-learning end of the golf operation. And yes, even noble icons have been called for duty. And so, right across the street from the former practice grounds, there now stands the new Pebble Beach Golf Academy & Practice Facility, a completely updated range and state-of-the-art teaching facility. The renovation – which began May 30 of last year and just had its grand opening on January 23 – is a huge point of pride for the Pebble Beach Company, which hails it as a "new standard for instruction, training and technology for golf destinations around the world." It was company CEO Bill Perocchi who cut the ceremonial ribbon and welcomed guests to tour the new Golf Academy building and practice facility. "Today marks an important milestone for Pebble Beach Resorts," said Perocchi during the event. "We now have a practice facility and golf academy that rivals any in the world." As hoped and planned, the new academy and its sleek surrounds are online in time for the PGA Tour's 2014 AT&T Pebble Beach National Pro-Am. With this vital improvement now in place – one that naturally was debated and negotiated heavily before permits could be issued – the resort company is underway with its Del Monte Forest Project. It's a multi-phase, 10-year development and conservation plan that's striving to protect 635 acres of native habitat, even as it updates and expands resort facilities, improves traffic access and enhances the guest, visitor and resident experience. The project's other components include 100 new guest rooms and expanded group meeting space at The Lodge at Pebble Beach and The Inn at Spanish Bay. There will be new parking lots, as well, along with a new 100-room hotel near Spyglass Hill Golf Course.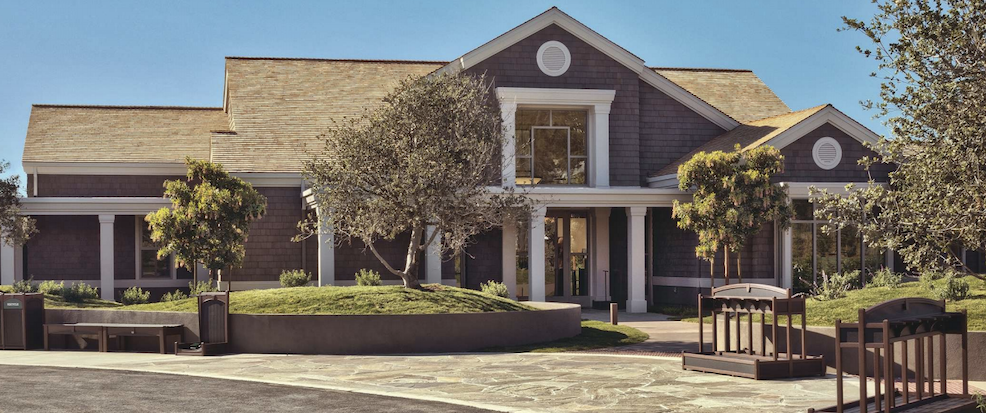 But for now, the 85-tee driving range complex is the centerpiece. The new 350-yard-deep, double-ended range is located directly across Portola Road from the old range, which by the way stayed open during construction, and adjacent to the par-3 Peter Hay Golf Course. It's roughly twice the size of the old complex, too, with more hitting bays and target greens, a larger 4,500-square-foot putting green, and an expanded short game practice area that includes practice bunkers, chipping tees and chipping greens.
The new range closely resembles the experience of playing Pebble Beach Golf Links, in a range setting. "The practice facility features the same kind of bunkering, green speeds and similar shot values as Pebble Beach Golf Links," says Laird Small, PGA Professional, instructor and director of Pebble Beach Golf Academy. Before this new facility was constructed, Small managed to keep Pebble and its academy program rated highly among resort instruction options. He has been listed among GOLF Magazine's Top 100 Teachers in America for 2013/2014, Top 50 Growth of the Game Teaching Professionals by our own Golf Range Association of America in 2012, and Golf Digest's Top 50 America's Greatest Teachers for 2011. "For a pre-round warm-up, it's nothing short of ideal," Small says of the new setup.
The new driving range is open to guests of Pebble Beach Resorts, golfers and Pebble Beach Golf Academy students. "The vision for the new Pebble Beach practice facility is to provide the modern player with everything they need, from individual game improvement and group instruction to complete warm-up training and clubfitting," says R.J. Harper, Pebble Beach Company's executive vice president of golf and retail. "It's exactly what you would expect from Pebble Beach Resorts – ample, exciting and cutting-edge."
As if that weren't top-notch enough, consider that directly adjacent to the range, the new 3,000-square foot Pebble Beach Golf Academy features state-of-the-art instructional technology, an expanded clubfitting area, a covered hitting bay for lessons, and three learning studios with unsurpassed putting and full-swing technology. This helps further complete an already amazing golf experience for guests. Resident instructors Small, Dan Pasquariello and Sally Dodge will continue to provide personalized, customized lessons.
The academy is so elite that each instructor is handpicked and trained in the Pebble Beach tradition of guest service and individualized attention, undergoing a full year of certification that includes tutelage in the short game, long game, putting, course strategy, golf concepts, golf's mental and physical aspects, video analysis, guest satisfaction, and more. The ambitious Del Monte Forest Project was 20 years in the making, say officials, who finally got the California Coastal Commission's unanimous approval in May of 2012. What had been a bucket-list experience is already upgraded substantially, with more improvements to come. So, when your golf-nut brother-in law makes his next trip out to the Monterey Peninsula, you can expect him to talk about a destination learning center – maybe even a lesson that cured his funky fade for good.