The USGA, now very public golf-oriented, is taking its 2015 Open to Chambers Bay. Should the mighty muni on Puget Sound have a practice range that's a bit more polished?
BY: SCOTT KRAMER
The golf industry decided at some point that learning and practice centers had to become a true centerpiece of the golf experience. When exactly did this happen? It's difficult to say, but we can figure it was sometime after June of 2007, when Pierce County officials opened Chambers Bay. The Robert Trent Jones II-designed golf course in University Place, Wash., is a jewel of the Pacific Northwest and your host for the 2015 U.S. Open, but we don't know many people who would travel out of their way to hit balls there.
You could dust off the Seinfeld line and say: "Not that there's anything wrong with that." For a small government entity to have conceived and boldly built this masterpiece, then to have parlayed its investment into world renown and a massive economic impact (first the 2010 U.S. Amateur, next an Open), should prompt only praise from observers. And truthfully, ranges don't have to be much more than big to meet the one-week needs of a top-rank pro tournament. What Chambers Bay folks are obliged to do is make an appropriate judgment about what their market can and will support, in the way of a practice "amenity."
Chambers Bay general manager Matt Allen balances that question among a host of others as he thinks about projects, improvements, profit and-loss and his facility's position in the market. Regarding the current practice facility, Allen is candidly matter-of-fact: "It's really nothing special," he admits. That sort of comment brings no pang to an executive who rides herd on a golf property this special – even as media folk travel here from far and wide and USGA officials continue their on-site efforts at preparing the course and its practice facility for our country's National Championship.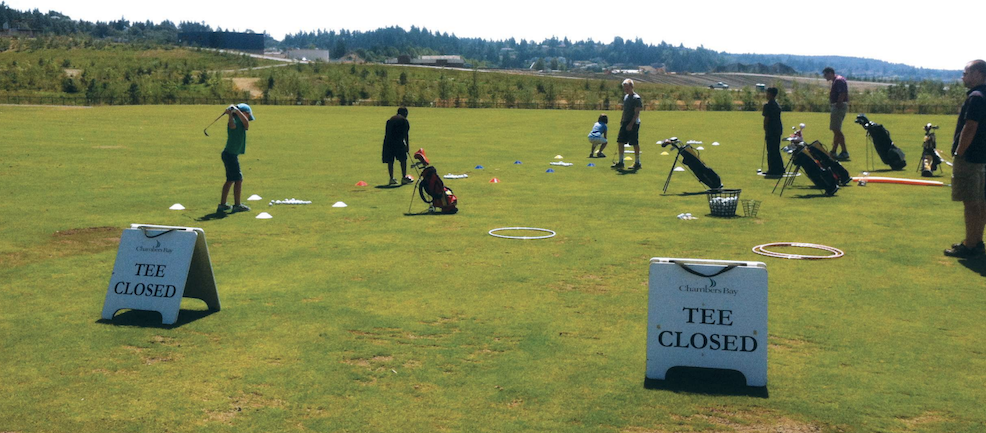 The sprawling size of this range is partly what makes it nondescript and visually dull—but size matters to Allen and his associates from Golf House in New Jersey. "We built the range first for the 2010 U.S. Amateur and now the U.S. Open," says Allen. "We have another range that was part of the original construction of the course that we only use in the off-season when the demand is such that the size of its hitting area will accommodate our play."
But the main range, which opened on the eve of the 2010 Amateur and borders a large public dog park, doesn't lack for acreage. It includes a 90-yard-wide by 40-yard-deep hitting area, an expansive putting green, and two short-game greens with bunkers. In other words, there's plenty of room for a lot of golfers. What the range doesn't have is any building to house a modern teaching academy, clubfitting gear, high-tech video equipment, or anything of the sort.
"Between now and the U.S. Open, the main thing we're going to address is the visual issue,"says Allen. "There's not a lot of definition—you don't get the sense you're looking at targets and features of a golf course," he says. The fix on that involves maintenance practices, if nothing else. "We're working with mowing heights, to try to create a visual that better represents something you'd see on the course. In terms of length, the U.S. Open requirement isn't different from our normal," Allen explains. "Frankly, we need more hitting space for a normal, peak season day of golf than you would need for 156 players at an Open."
This is especially the case given the turf variety that upholsters this former gravel mine. It's a British-style fine fescue turf that doesn't germinate quickly. "We need maybe twice as much tee space on a fescue hitting deck as we'd need on a rye grass deck," says Allen. "It can take five weeks to germinate a fescue divot."
USGA representatives originally had directed Chambers Bay to build a larger range, which management truly has an operational need for, anyway. The current range has a supply of about 5,000 golf balls. Apparently, that needs recycling throughout busy days. Golfers can use the Chambers Bay range before their round. Those not playing the course can buy a $25 daily pass or a $600 annual pass. Due to the slow-growing turf, however, the annual pass is more of a season pass, and good only from April through October. That's to help give the turf a chance to recover and reestablish itself. The range is always open for golfers who are playing that day and wish to warm up. There are also a couple of local college teams that enjoy no-charge range use privileges. And there's the local First Tee program—that's right, at a U.S. Open golf course—that makes regular use of this practice range, as well.
"We're probably the only range in the area using a daily flat fee, versus distributing strictly by the buckets," says Allen. "We have baskets and a self-serve tub out there, where you can keep reloading your basket of golf balls. There's a surprising number of golfers out there paying the daily flat fee." Range op's sometimes come down to very simple arithmetic. In this case it's a matter of one large basket costing $9 and the daily privilege on the range being priced at $25.
"You might think that two large buckets is a full-on practice session, but if a player needs a length of time to get his session accomplished, the day pass is a better deal. The people that buy the flat fee might show up at 10am, hit balls, break for lunch, then go back to the range."
The Chambers Bay staff does not offer clubfitting of any kind. However, the pros do give lessons. "We've been doing quite of bit of Get Golf Ready programming under the Play Golf America initiative," says Allen. In the summer his crew does a series of weekend junior clinics. There is some flash added to the instruction program, via a partnership with the onsite encampments of the Brian Mogg Golf Academy. With victories by Lion Kim, winner of the 2010 U.S. Public Links, and Y.E. Yang, whom Mogg coached to victory in the 2009 PGA Championship, that brand name has risen to notable heights.
"Our head professional and lead instructor partner with Brian Mogg and his academy," says Allen, explaining that the split-personality factor of being county-owned and reasonably priced bumps up against the major championship identification. "We get people who come here expecting academy-style instruction and people who come looking for a simple, introductory experience along the lines of Get Golf Ready." Not being a resort, Chambers Bay doesn't pick up instruction business the way a facility with upscale lodging and dining might. "There's not much spontaneous 'I had a bad round, so can I take a lesson? – nothing like that," Allen muses.
He believes setting is what makes this proposition truly unique. The range sits perched directly above stunning Puget Sound, and has a railroad track to the side that's busy with Amtrak and freight trains all day long. "I think the short-game practice area is pretty cool," he adds. "It was designed for the U.S. Open so that on one end you can hit shots off the hitting deck toward the targets, too, versus just dropping balls around the green." This year, Allen and his staff began imprinting messages on the range balls – prompts that people read as they tee it up. Some say "Thank you for visiting Chambers Bay," some are pace-of-play reminders, others are reminders of the option to just play nine, which pertain to the PGA and USGA's initiatives to get into the game and play faster and have fun. "It's another way to communicate with our guests," says Allen. "I think Pebble Beach was the first to do this years ago, reminding people about pace of play." Eventually, as this facility matures and hosts more Majors, it will likely share many other similarities to Pebble Beach – and one day have its own first-class academy to compete in that category of the marketplace.