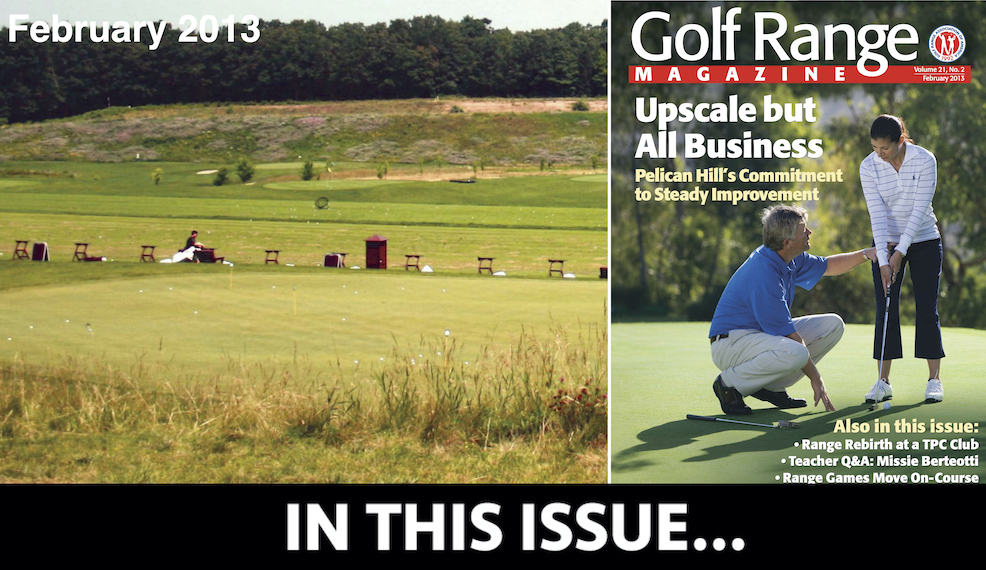 A Wide Range of News – Keeping you up to speed on trends in the golf practice-and-learning sector.
How to Spot (and Serve) the Serious Practicer – You can train your staff to cater to repeat golfers in a pleasing manner – that includes giving them their space.
Range Reinvention: One Super's Urgent Mission – Needing a practice complex that would satisfy tour players competing in the Travelers Championship, Tom DeGrandi and his colleagues at TPC River Highlands went all out.
Well-Positioned to Focus on Growth – Serving as a catalyst and a crossroads for pro-growth forces in golf, the GRAA made a strong presence in Orlando for a second consecutive year.
Missie Berteotti: Training Golfers'Minds for Mastery – With a new book out, Missie Berteotti completes a goal she set after leaving the LPGA Tour to become a mother, teacher and role model for aspiring young competitors.
Las Vegas Variations– Skills Events Move On-Course –Skills challenges escape the range and spill onto the golf course when creative Las Vegas golf managers spy an opportunity to add fun by bending a few rules.
Beyond the Pretty Scenery a Serious Golf Academy – As technology and teaching skills advance, a destination-style golf academy like Pelican Hill gets granular with game improvement to keep customers coming back.
Discover more Golf Range Magazine content and industry news here.