Serving as a catalyst and a crossroads for pro-growth forces in golf, the GRAA made a strong presence in Orlando for a second consecutive year
BY: DAVE GOULD
It was the 60th year of commerce and conference-hosting for the PGA Merchandise Show, though it was merely Year No. 2 for the newly reconstituted Golf Range Association of America. The two organizations tapped the industry's invigorated zeal for growth as diverse products, ideas and services took the spotlight during show week. With the industry pressing to regain its youthful stride, GRAA members, staffers and partners felt well-positioned to help that cause.
"The golf industry needs more golfers, playing more rounds and having more fun," said Rick Summers, CEO of the GRAA and Publisher of its family of media products, including Golf Range Magazine. "We need short-form golf that takes 30, 60 or 90 minutes. We need more 25- to 45-year olds and women participating, and we need more core players working to improve their skills. Golf ranges are at the center of the solution." With industry professionals on hand from all 50 U.S. states as well as from countries around the world, the confluence of ideas and new trends was robust.
Full-scale festivities kicked off west of town at Orange County National Golf Club, home to the most capacious and inspiring golf range anywhere. This was the last PGA Show Outdoor Demo Day to take place on Wednesday (in 2014 it moves to Tuesday, as the Show drops its Saturday session and shifts the schedule forward) and it was a ball-hitting festival under nearly cloudless skies. Now in its second decade, the Demo Day is understandably skewed toward hardgoods testing. With a lead position near the attendees' main entry point, GRAA carries a grow-the-game message along with the offer of helpful resources.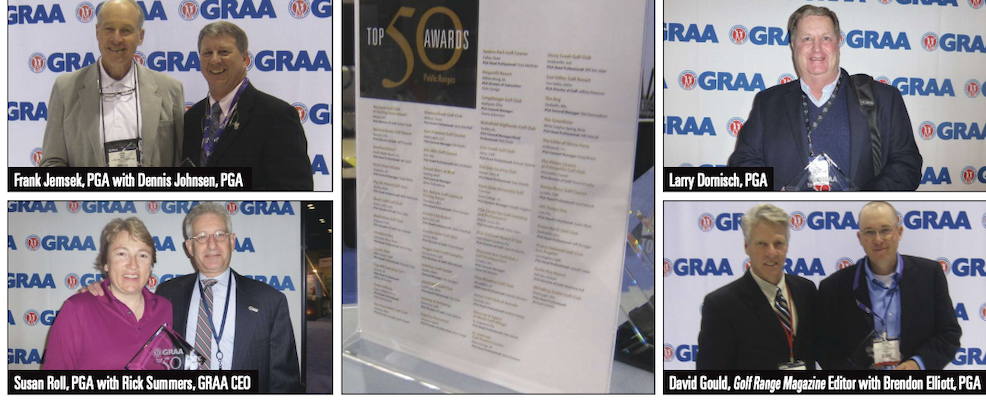 On Thursday, the action moved to the Convention Center. The location of the expanded GRAA booth was ideal – just inside one of the main doors. With as many as 200 new GRAA Award winners potentially stopping by to collect their hardware, the association's 20-by 40-foot space at the head of aisle 2900 made it easy to find. Among those who visited to pick up an award and spend time in conversation was Bernie Najar, PGA Director of Instruction at Caves Valley Golf Club in Owings Mills, Md. Named one of the Top 50 Growth of the Game Professionals, he runs the Performance Center at Caves Valley, a cutting-edge facility for skills development. According to Najar, the aisle-walking challenge for a teaching professional has become far more manageable in recent years—all part of a new specialization in golf instruction that is supported so well by new technology. Which is all the more welcome, as grow-the-game initiatives call upon teachers to welcome newcomers and send out lifelines to lapsed golfers or those in danger of becoming lapsed.
"Before the teaching and coaching products received their own section on the PGA Show floor, you would have to walk the entire convention center to make sure you didn't miss anything," Najar said. "They've done a nice job of building an area for teachers and clubfitters to see what they need to see in a very efficient way." As he considered some high-ticket investments in the latest tech gear for teachers, Najar was sensing a new plateau for his segment of the profession. "We are getting to the point where the science of the diagnostics is pretty flawless," he said. "That puts the emphasis back on the art of teaching—having a rapport with the student, building trust, finding what clicks in their heads so they can make the necessary changes."
At a gathering of the GRAA Advisory Board, Summers was able to share some brand-new raw data from a study of subscribers to Golf Range Magazine and to the Association's frequently generated Best Practice emails. The numbers told a story of an industry sector eager for helpful information about range operations, profit-building and new ways to boost participation. Few statistics were as telling as those devoted to so-called pass-along readership. No fewer than 52 percent of Golf Range readers said they had forwarded how-to articles along to colleagues and associates. Over 45 percent said they had passed along Best Practices emails—roughly the same portion of survey-takers who said they had implemented one of them. "Those are unusually high numbers for reader engagement," noted Summers.
He concluded his remarks by mentioning that opportunities for the GRAA at next year's PGA Merchandise Show could potentially expand, based on positive discussions with the PGA of America and Reed Exhibitions, which principally owns and operates the annual confab. On its own, the GRAA will institute a Boot Camp program around the U.S. in 2013 to facilitate in-person, specialized training in teaching and clubfitting. Also paying a visit to the GRAA booth was veteran journalist Sally J. Sportsman, who had just received a coveted writing award from the International Network of Golf. The honor bestowed on Sportsman was First Place in the Magazine Features division for a lengthy profile in Golf Range Magazine entitled, "Florida's AllRound Great Golf Range," about none other than Orange County National. So, indeed, the PGA Show and the GRAA's first full year of operation had come "full circle" with this magazine's recognition for a feature story on the host facility for Demo Day. As another season of important progress unfolds, we'll all look forward to reconvening at OCN a year from now.