As technology and teaching skills advance, a destination-style golf academy like Pelican Hill gets granular with game improvement to keep customers coming back
BY: SCOTT KRAMER
When it first emerged as a micro-industry, the resort golf school pursued a simple formula. Its student-golfer guest, whether on vacation or part of a business conference, got small-group lessons and tips from above-average teachers in a deluxe environment. If the swing-honing effort between teacher and student clicked, well, that was a nice bonus. The main value to the customer was simply to receive personal attention, pick up some knowledge and have fun.
Time has passed since then, and technology has advanced dramatically. Now the "destination" golf learning environment is a laboratory of best practices and highest standards–one that appeals to a drive-market clientele of high-income players. Directors of instruction are intent on going beyond the polish and gloss–and actually making their prized students into better golfers.
The practice range at Pelican Hill Golf Resort in Newport Beach, Calif., has the idyllic look of a sporting oasis, groomed and green with the Pacific Ocean spread out beyond. Beneath that splendid surface is the serious machinery of game improvement. The Pelican Hill package appears able to sell itself, but that doesn't stop resident PGA director of instruction Glenn Deck – a Golf Magazine Top 100 Teacher – from going the extra mile. He realizes what it takes to truly get through to his students, to develop a personal rapport and to thoroughly understand the appropriate goals of each golfer. He also knows that this level of dedication is probably what it takes to build the business and create that repeat-customer scenario.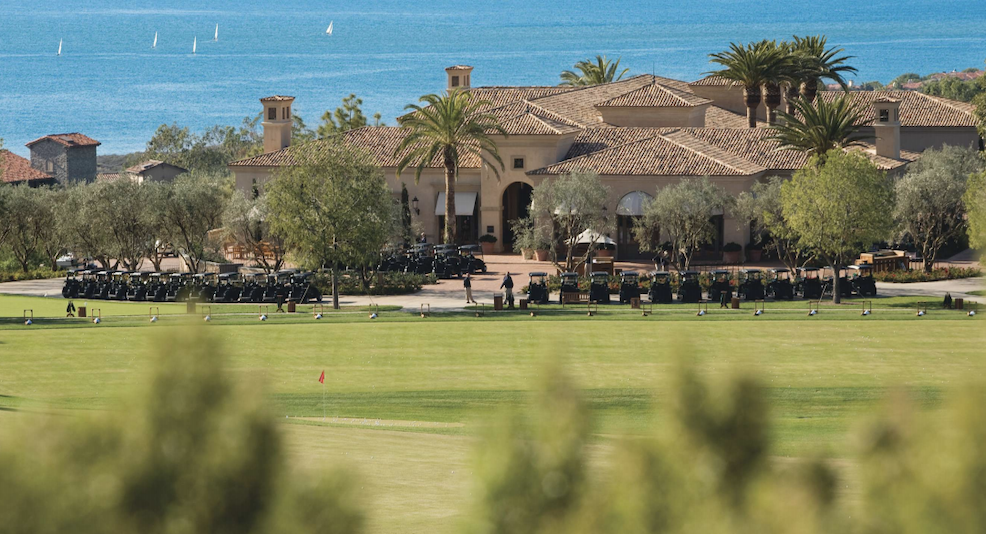 Mind you, he doesn't put the hard sell on them. Rather, he suggests to them with professionalism and sincerity when they need to come back. "The specific timeframe for the next lesson truly depends upon the individual golfer's goals," says Deck. "I generally encourage my students to return within 30 days if possible, to ensure that we are on the right track to improving their game. For some students, we schedule lessons once a week or every other week, while others return once a month or once a quarter for general check-ups on their game." Perhaps that's why 80 percent of his students are locals who come back for more.
To attract new followers, Pelican Hill promotes the academy through seasonal brochures, press announcements and stories, thepelicanhill.com website, as well as via e-mail. Of course, it also feeds on word-of-mouth from current students. Generating that network of verbal support requires that students feel a connection with the academy that goes beyond a typical relationship a student may have with an instructor–especially, yes, a "golf school" instructor.
"One of our academy's distinguishing features is that we do not teach a single method or follow one set instruction model," says Deck, who was recently named Teacher of the Year by fellow members of the Southern California PGA. "We work with the individual golfer to customize the teaching method and manner. Our instruction approach is based on each golfer's individual skills, body structure, range of motion, past athletic skills, personalities and strengths. We want students to think less and be naturally athletic on the course, so they have success, gain confidence, and truly enjoy practicing and playing the game of golf."
There are nine separate skill and performance areas that Deck works through in helping the student build a program of improvement. Vital to the structure of that program is the question of how much time the golfer can realistically put into playing and practicing. The process begins by establishing short-term improvement objectives, based upon time resources. "Achieving those early goals gives the student confidence in his or her ability to improve," says Deck. "It helps us work towards larger goals. The key is to monitor and evaluate the student's progress, with the option to change something if the master plan needs adjustments."
Pelican Hill Golf Academy offers all of the usual clinics and classes you'd find at a world-class resort. But it also goes above and beyond, even staging serious green-reading clinics. "In this clinic, Jason Goldsmith teaches golfers how to start putts on line, control distance, find the straight putt on any green, understand the break based on the location of the straight putt, and capture the width of the hole," says Deck. "He also instructs golfers in using a proprietary ball mark tool, to predict the amount of break to play back to the hole. There's a science to learning putt breaks, which are essentially based on gravity and time. Distance control is based on the acceleration profile and motor skills. With practice, anyone can improve these skills."
Another personal practice that Deck and Goldsmith employ is paying keen attention to the putter a golfer uses. Their research is showing that, in half of all cases, it's the wrong model, in terms of length, lie, shaft bend and location, balance and head design. "Some golfers simply don't know how to aim their putter, so they need to be individually instructed on this aspect of putting," says Deck. "We test our students to determine if their putter isn't fit well, by performing a quadrant aim test, as well as evaluating their setup and flow lines, and their distance control capability."
While suggesting a different style of putter and showing why someone needs it adds a level of personalization that flatters many students, Pelican Hill's staff won't directly incorporate full-on clubfitting into its sales spiel like many other academies do in an effort to increase sales. "For clubfitting, we offer custom Cool Clubs fittings at Oak Creek Golf Club, our sister property in nearby Irvine," says Deck. "Their team of professional clubfitters does an excellent job with our students, but we do not strongly factor it into our business-attraction equation."
Instead the instruction team at this Pacific-view resort presents club fitting as one more item in its performance-improving repertoire. Within the message it sends to customers and prospects, every one of its teaching tools will offer the same promise of support and expertise as a player works to get better. Yes, there is pretty scenery all around, but nothing looks nicer to the golfer than one more beautifully shaped shot, heading toward the target.