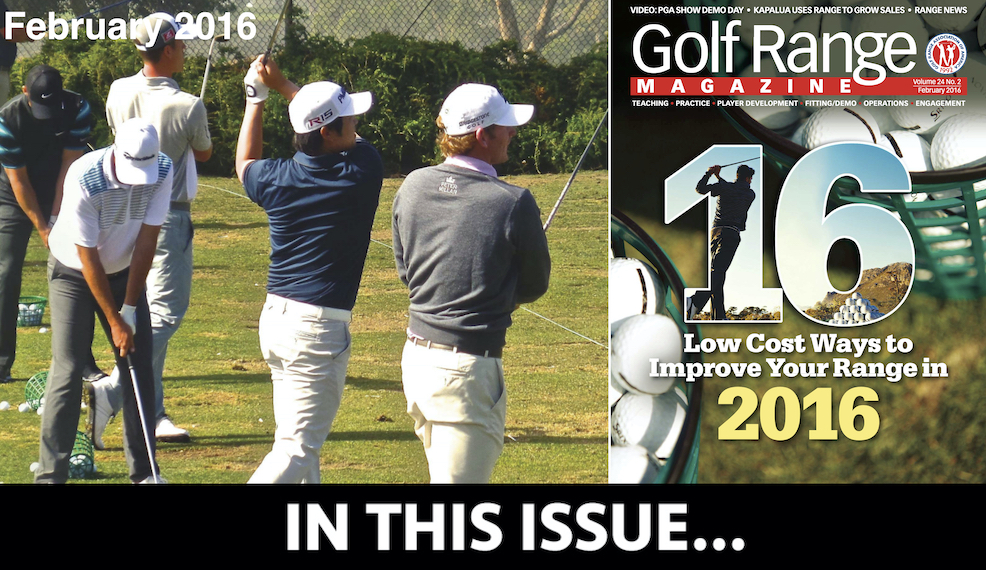 Golf Range News – Keeping you up to speed on interesting stories and trends from the golf practice-and-learning sector.
16 Low Cost Ways to Improve Your Range in 2016 – With the New Year still fresh, Golf Range Magazine presents 16 ways to improve your range operation in 2016 – without having to dig too deep into your pockets.
With Hard Good Sales Sliding, Kapalua Shifts Sales Strategy to Include Greater Focus on the Practice Range – Specialized clinics that offer new equipment and instruction is the new model in Maui.
The Tour of a Lifetime – A former long-drive competitor's once in a lifetime experience: practicing and playing with PGA Tour golfers at the first three tour stops of 2016.
The Orange Peel: Help Your Students Build a Strong Foundation while Developing Power and Consistency – Designed to increase stability, rhythm and tempo – the Orange Peel strengthens golf specific muscles while adding balance and power to the golf swing.
Discover more Golf Range Magazine content and industry news here.