A former long-drive competitor's once in a lifetime experience: practicing and playing with PGA Tour golfers at the first three tour stops of 2016
BY: COREY ROSS
Bill Tanay has spent a lot of time on practice ranges throughout his life. The now 59-year-old once smashed a drive over 500 yards during his days as a competitive long driver. It's the shot he still dreams about. In terms of his present golf life, that shot seems like a lifetime ago for the Seattle resident, as age and injury have limited his play.
Tanay didn't recapture that titanic distance during a dream playing opportunity in January, but he perhaps got the next best thing: Three days of playing and practicing amongst the top PGA Tour professionals.
Tanay won an online contest sponsored by Hyundai to participate in the pro-ams of the first three PGA Tour events of 2016. After being the only one chosen from around 17,000 entrants, he slogged through the rain in Kapalua alongside J.B. Holmes, strolled in the Palm Springs sun next to Stewart Cink and hiked the lush fairways of ocean-side Torrey Pines paired with Billy Horschel.
Tanay's Bunyan-esque stature towered over his group at Torrey, including Horschel. However, he admitted feeling humbled by the game at which he used to excel. He played sparingly a year ago after having reconstructive shoulder surgery. He then spent a few weeks on the practice range after getting the call about the contest in early December.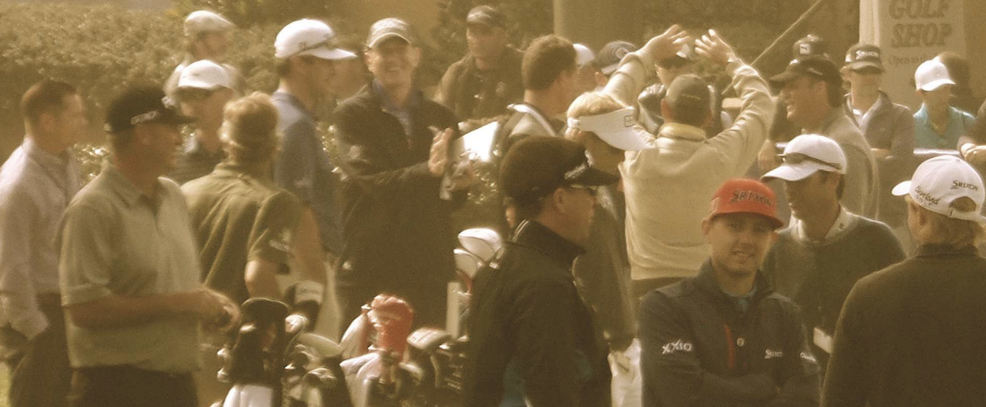 In his prime, crushing drives on the practice range was the norm for Tanay. He had a drive measured at 486 yards during competition; his official personal best. The aforementioned 500-yard drive comes with a bit of lore.
"It was off the end of the grid. They couldn't find it. But it was estimated north of 500," he said. "Unfortunately, I'm at least 100 yards short of what I used to be."
Most golfers will never be able to say 300 yards is "shorter than they used to be."
A reminder from J.B. Holmes to take the club away "low and slow" helped, but Tanay says he never really regained his old swing during his three-week "whirlwind golf career." Prior to the start of his final round, Tanay had a promising range session at Torrey. Even catching the eye of some tour players as he bombed drives that nearly made it to the back tee.
"But I lost it on the first tee," he said, wry smile in tow. "It's frustrating to get this opportunity and not play well, but I've just lost touch with my swing after being away this long."
The highlights, instead, belonged to Tanay's professional playing partners, most notably J.B. Holmes on the Plantation Course at Kapalua.
"J.B. Holmes played so well in Maui even though it poured rain and we had 30 mph wind for the first nine holes. It just didn't affect him at all – and it killed everybody else. He had a 20-foot putt and got his hat blown off. He still drained it."
Tanay said moments like that were the real lessons of his tour. "Just watching them play you can learn so much. It's fun. It really is."
Tanay thanks his competitive long-drive days for getting him accustomed to crowds. The galleries didn't faze him, nor did hitting alongside the pros. Horschel gave Tanay a signed caddie bib after the Torrey round, and he should also have a few autographed group photos arriving in the mail from his tour.
However, his best takeaway was a re-discovered love of the game. "This made me realize how much I miss getting out there and playing like I used to," he said. "I will get out and play a lot more from this point. It put me back in touch with the game."'
Michael Stewart of Hyundai, who played with Tanay at Torrey, said that's the outcome Hyundai wanted for Tanay and what it hopes to instill in more players.
"Golf has been a great sport for Hyundai," Stewart said. "All of golf is a good audience for us and we want to get more people interested in playing."
Tanay didn't card a birdie over three rounds, but you'd never know it from the wide smile he flashed walking off the final green on Torrey's North Course late last month.
"It was an amazing experience," he said. "Being around these guys in an environment like this, it's hard not to smile.