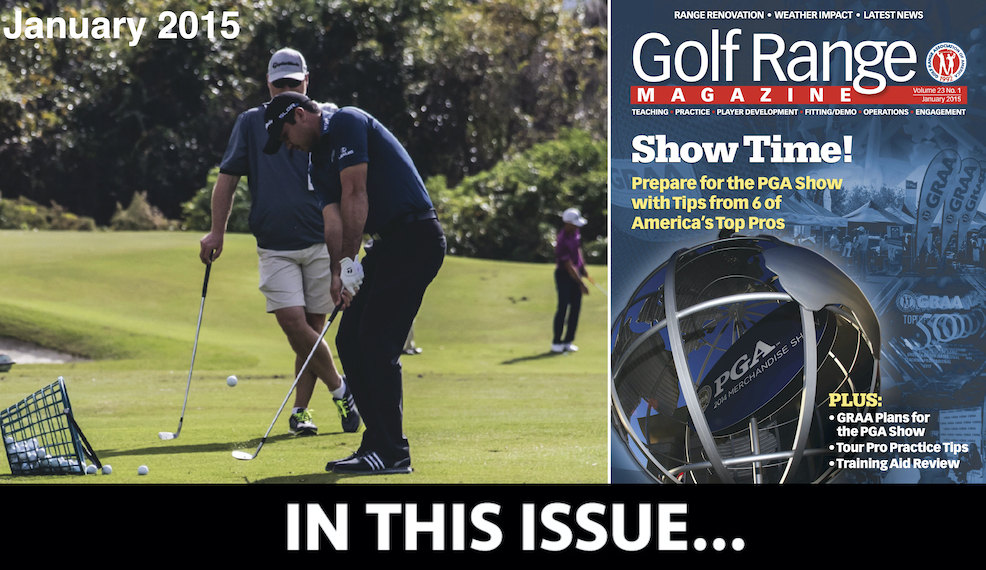 Golf Range News – Keeping you up to speed on interesting stories and trends from the golf practice-and-learning sector.
Show Time! – Tips From 6 of America's Top PGA Pros on How to Leave the PGA Show Ready to Deliver a Better Range Experience.
The Golf Range Association of America to Expand its Presence at PGA Show Demo Day – Demo Day at Orange County National Golf Center has become a can't-miss event during the action packed week of the PGA Merchandise Show.
Practice Day – PGA Tour star Jason Day provides a look into his practice habits, and offers ideas instructors can use to help students get more out of their range sessions.
Eyeline 360-Degree Mirror: Providing Instant Visual Feedback – PGA Professionals use the Eyeline 360-Degree Mirror to help students improve in a multitude of ways.
Private Cincinnati Club to Undergo Multi-Million Dollar Renovation of Practice Facilities – Extensive changes include replacing three holes in order to make space for expanded practice range.
Discover more Golf Range Magazine content and industry news here.