Extensive changes include replacing three holes in order to make space for expanded practice range
BY: JOHN TORSIELLO
The competition had gotten as intense as the back nine at The Masters on a Sunday afternoon. The owners and managers of Kenwood Country Club in Cincinnati, Ohio, knew they had to lift their games. So the 36-hole private club launched a several-million-dollar expansion of its driving range and practice facilities, as well as other amenities and upgrades.
Ambitious? Indeed, but quite necessary in order to attract new members and retain the ones they have. "We are undertaking this project in order to maintain our competitive edge in greater Cincinnati and meet our members' expectations in having practice facilities of the highest quality," says Gil Gusweiler, the facility's PGA director of golf. One of the strong competitors is Maketewah Country Club, located about 10 miles from Kenwood. The 100- year-old club partnered with nearby Xavier University on a renovation project that completed in 2013. Enhancements were made to the practice facility, as well as the course itself.
Gusweiler hopes that the upcoming changes will not only keep his club competitive in the battle for new members, but also encourage existing members to practice and use the facility more often, for longer periods of time. "Our existing range is grossly undersized relative to the size of our membership, 575 golfing families (870 total members)," says Gil Gusweiler. "Due to size limitations and the inability to maintain good quality turf on our existing range it is used primarily as a place to warm up before you play, not as a true practice facility.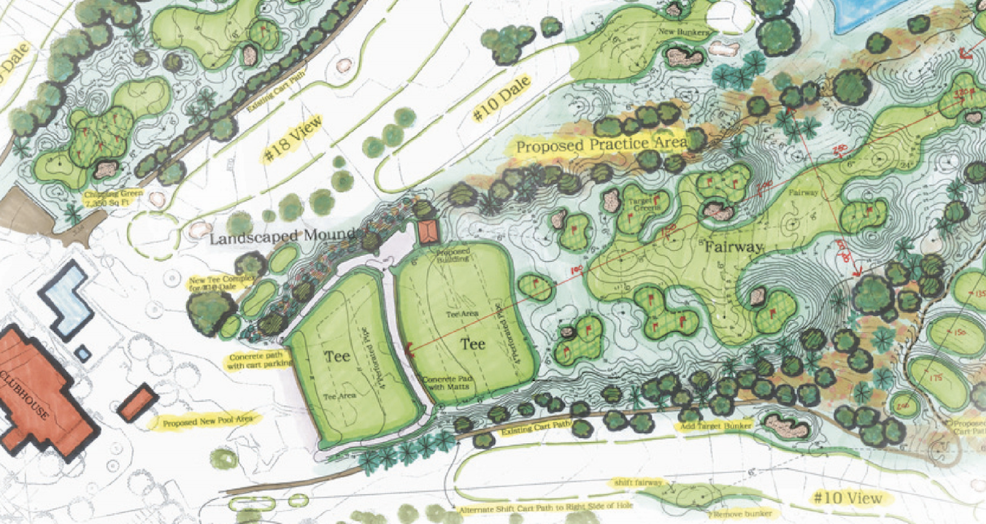 "On top of that, times are changing. Many people don't have the four-plus hours to play golf every week," he adds. "But they still want to maintain their skills and have the facilities available to introduce the game to their children. That's what makes a good practice facility so valuable these days."
The expansive project entails replacing three existing holes (changing the Kenview Course from par 71 to 70) and a short game practice area in order to expand the practice range and enhance the conditions. In addition, a new indoor facility will be added to make the club a year-round destination for members.
The new range will have two bent grass teeing surfaces, approximately three-and-a-half times larger than the previous range. When complete, Kenwood will be one of the only clubs in the region to have a 300-plus yard driving range, a state-of-the-art indoor teaching/hitting facility on the range for inclement weather, and a separate short game practice area with all of the modern amenities.
The club is outfitting the indoor facility with JC Video personal golf analysis software and FlightScope launch monitors for fitting and teaching – with plans to add more technology as needs arise. There will be a new men's locker room, a men's lounge, ladies lounge, a fitness facility, a pavilion and resort pool area. The entire golf project will be finished in May with portions of the clubhouse to be complete in August.
Members are abuzz about the upgrades. "Our members are very excited about the prospect of having a new facility which is on par with the quality of our courses," says Gusweiler. "Since we are located in the Midwest, they are especially pleased about the indoor facility, which will be available year round and include state-of-the-art swing analysis equipment."