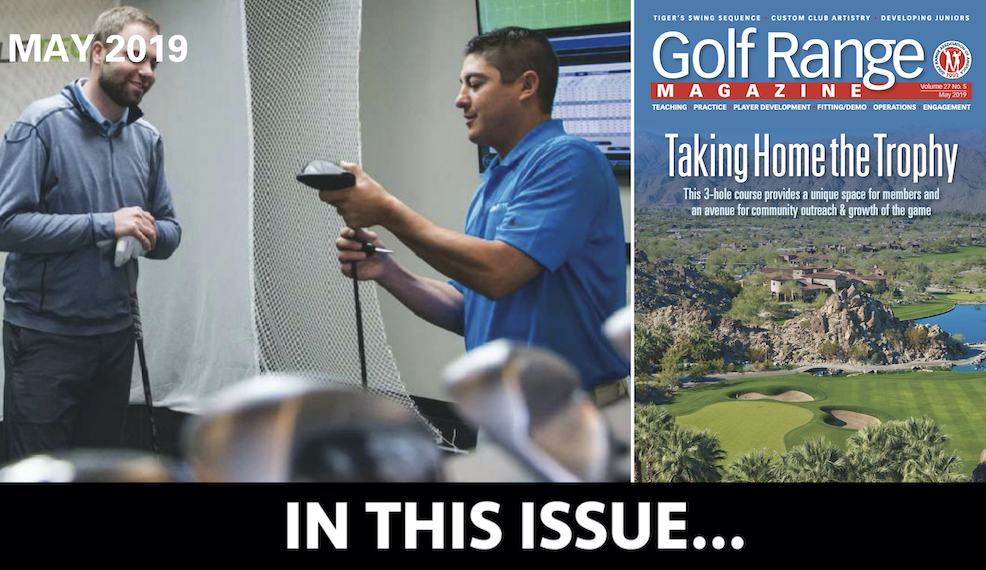 Ranges Play Key Role in National Golf  – The 12th annual National Golf Day was May 1 with the core events taking place at the U.S. Capitol.
Troon Enters Golf Entertainment Biz – Topgolf has ushered in an era and helped industry leaders to recognize the value of entertainment centric-venues that use golf ranges as a centerpiece.
GOLFTEC Upping Its Focus on Fitting – GOLFTEC has long been known for its advanced indoor golf lessons, utilizing high-speed cameras and video-sharing capabilities to help people improve at playing the game. 
Taking Home the Trophy – This 3-hole course provides a unique space for members and an avenue for community outreach & growth of the game. 
Fitting Beyond Performance – As club customization becomes more mainstream, help your golfers create clubs that fit their swing and their personality.
The Secret is: There is no Secret – My good friend and fellow PGA Professional Ted Eleftheriou, the Director of Golf Program Development for the PGA of America, recently posted on LinkedIn.
A Frame-by-Frame Look at the Swing that Produced Tiger's 15th Major Championship – Tiger Woods has one of the most examined swings in the history of golf.
Tech Talk – A stand-alone range in Virginia employs a Director of Technology and R&D…should you?
Discover more Golf Range Magazine content and industry news here.