By: David Woods, PGA/With Tony L. Starks, Editorial Director Photography by Mark Newcombe
Tiger Woods has one of the most examined swings in the history of golf. Perhaps the most intriguing part for industry professionals and golf fans alike has been his ability to produce championship-winning golf with radically different golf swings. Historically, Tiger's swing can be broken into different eras based on coaches:
1996-2003 (Butch Harmon)

2004-10 (Hank Haney)

2011-14 (Sean Foley)
After a brief stint with Chris Como as his coach, Woods has largely gone at it on his own in recent years – developing a swing that fits this stage of his career and physical attributes. While the swing has changed again, one thing hasn't…Woods' winning ways.
Following his historic performance at Augusta National, where he claimed his fifth green jacket, we enlisted the help of acclaimed PGA Professional David Woods (no relation to Tiger) to help us analyze Tiger's current swing. As the former coach of Mike Weir (2003 Masters Champion), Woods is no stranger to closely watching jacket-winning swings.
There are a lot of experts out there, so it's a challenging thing to analyze a swing that belongs to arguably the greatest golfer in history.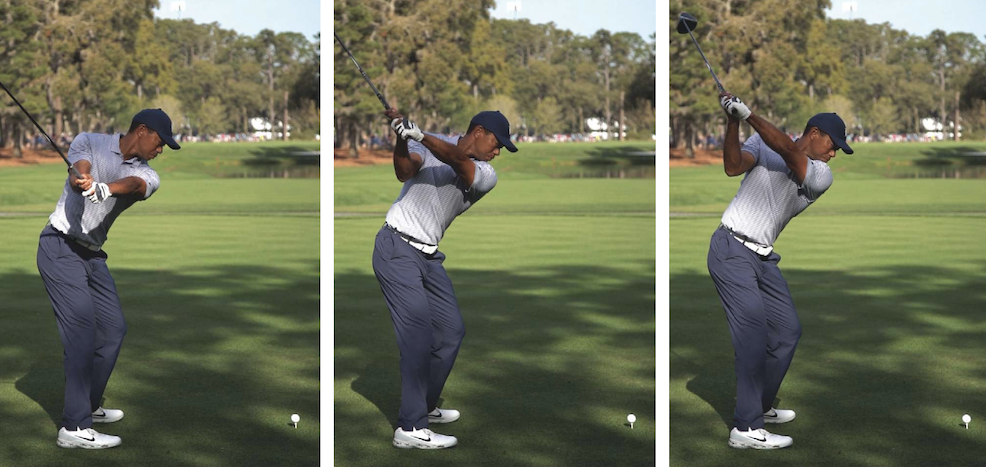 In comparison to the past, many of us consider Tiger's 2000 swing as the benchmark – he was winning everything at the time. Obviously, much has changed in his life and his body has changed because of all the injuries, multiple surgeries and the back fusion. However, I believe those elements have actually created a more reliable golf swing in a couple of ways.
Starting from the address position, it's very similar to what it was when he was at his best. He looks a touch more relaxed and less rigid than he was in years past.
During his takeaway (at P2), he gets the club in a great position with the club head outside the hands and the hands working along the foot line. Probably the most noticeable change I see is that there seems to be a little less wrist hinge and he's making more of a body swing. Another thing you'll notice is that he's a bit restricted on the length of his backswing – which is more than likely because of fusion.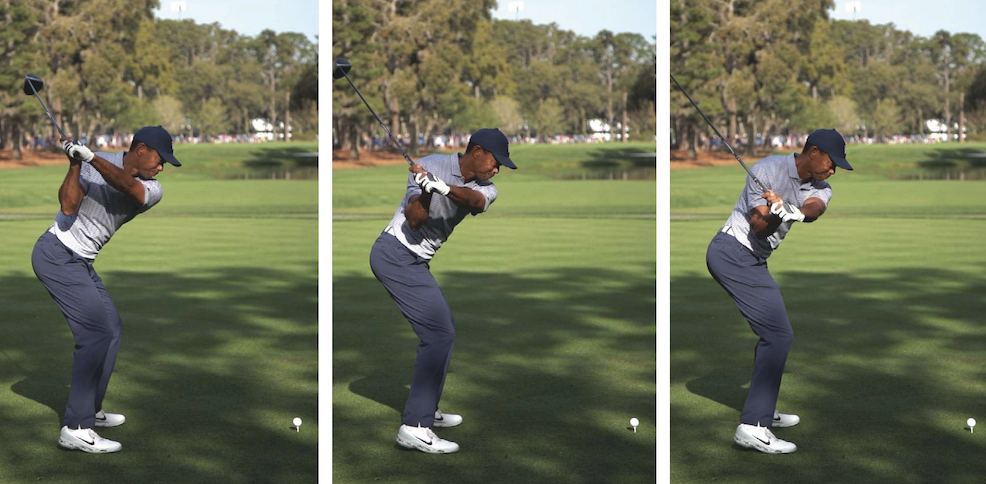 So we see him setting the club slightly shorter, which allows it to be more single plane. When his swing was longer, at the top of his backswing the club was more down the line or even across the line. Now with the shorter wrist set angles and the less rotated motion at the top, he's in a really great position.
As we've heard others mention, he has dramatically lessened the squatting look that was so prevalent in his prior years – which would occur when he transitioned from the backswing to the downswing. He would then rebound into a sharpened and straight left leg. Nowadays, he's not squatting nearly as much and he virtually removed the violent straightening of that lead leg. I believe that decision was made ultimately to lessen the strain on his body. He's done amazing work that's going to preserve his body in the long run.
At the halfway down point in his golf swing he's got the shaft working through his right forearm and he's shallower than he was then when he was driving it wildly – which I think is noted in how well he's driven the ball in his last few outings. Granted, the driver is still the least reliable club in his bag even though he's hitting it far and getting great speed despite his injury history.
What I like most about this 2019 Tiger is that there's more body motion with less hands, less jumping and less squatting. Overall his motion is more efficient and cleaner at every point throughout the sequence.