By: Garret Johnston
The 12th annual National Golf Day was May 1 with the core events taking place at the U.S. Capitol.
The day provides better understanding of the golf industry's impact. You find out key stats like how two million jobs in the U.S. are in the golf business and that golf is an $84 billion annual industry.
A coalition of golf industry leaders known as WE ARE GOLF put on the event and it's primarily a time for many industry leaders to meet with lawmakers about the positive economic, social and environmental impact the golf industry has on the country.
This year marked a record 244 meetings with members of Congress who represented 41 total states.
Renowned golf instructor Michael Breed, the 2012 PGA Teacher of the Year, has attended all 12 National Golf Days and gave lessons to attendees on an aboutGolf simulator this year, which featured the seventh hole at Pebble Beach, site of this year's U.S. Open.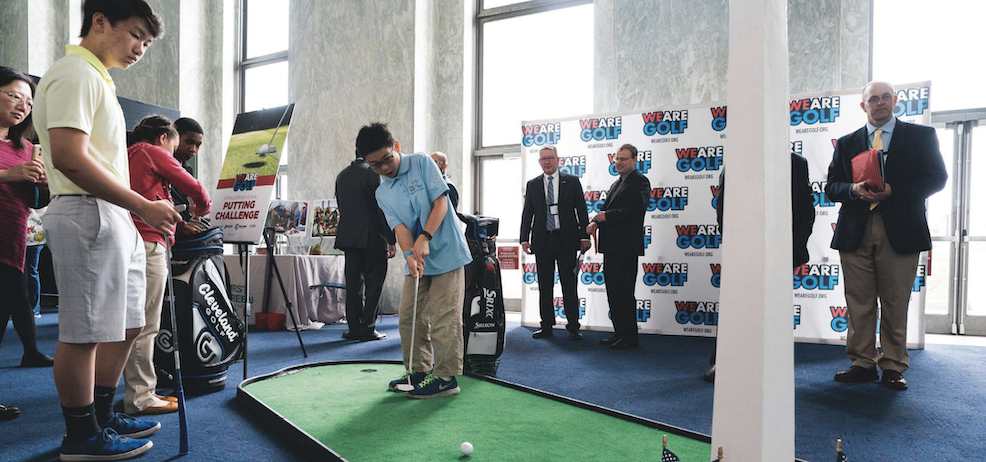 "I think first of all it's great to be able to get everybody together, it's great to see these influencers in the game all together. So that's a wonderful thing and very important," Michael Breed told GRM. "And obviously being able to meet with government leaders to explain what we're doing is big. It's just the awareness; creating awareness among those political leaders who will make decisions as to what's going on with taxes and all kinds of different dollars that are being spent, it's a really important day."
Darrell Crall, the PGA of America's Chief Operating Officer, and a group of his fellow PGA of America leaders met with four congressman, two senators and two high-ranking staff members of governmental leaders.
"The charitable impact of golf is truly profound, but that $4 billion a year happens one facility, one golf professional and one good cause."