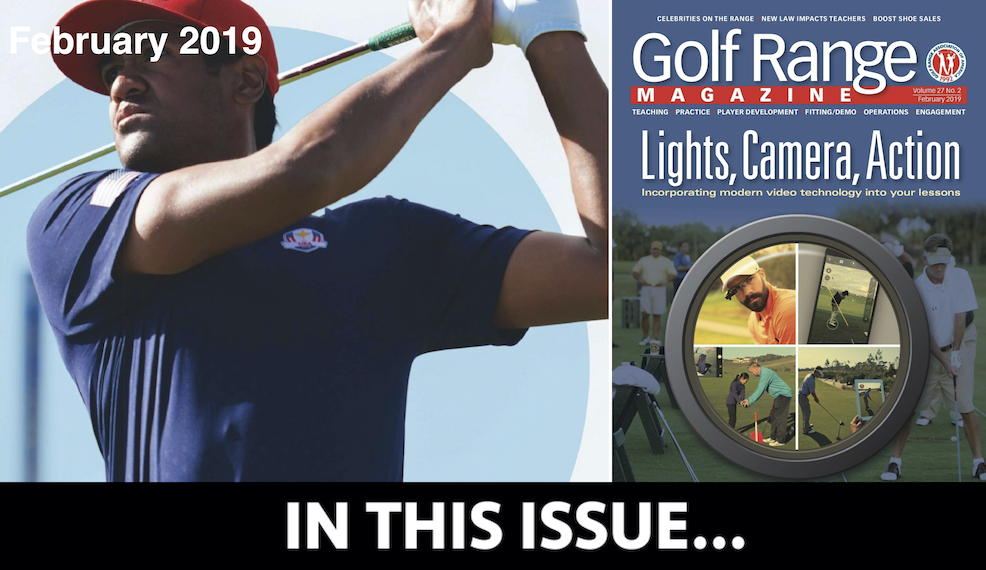 Bridgestone Golf Announces Changes to its Ball Fitting Program – To date, Bridgestone's Ball Fitting program has relied on a method of head-to-head driver testing.
Celebs on the Range – Short of making it to the Super Bowl, Patrick Mahomes had the type of year that professional athletes dream of.
Barajas Elected GCSAA President – As part of the 2019 Golf Industry Show in San Diego, on Feb. 7 Rafael Barajas was elected to a one-year term as president of the Golf Course Superintendents Association of America (GCSAA).
Seeing is Believing – A variety of video systems are taking golf instruction to an elite level with their capabilities and creativity.
California Law for Independent Contractors–The ruling so rocked the state's business community that the California Chamber of Commerce made a concerted effort to seek legislative redress during the final two weeks of the 2018 legislative session.
On the Range with Tony Finau – Tony Finau had a career year on the PGA Tour in 2018.
Behind the Numbers –  During the PGA Merchandise Show, our editor was able to demo K-MOTION's new K-Coach Evaluation tool under the watchful eye Joe DiChiara, the company's Director of Customer Success.
Discover more Golf Range Magazine content and industry news here.