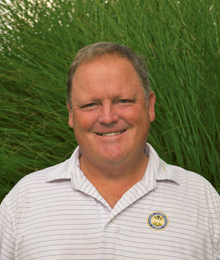 William Reilly
Sailfish Sands Golf Academy
2000 SE St.Lucie Blvd.
Stuart, Fl., Florida 34996
(772) 320-3202
wreilly@martin.fl.us
Director of Instruction
Sandhill Crane Golf Course
Palm Beach Gardens, Florida
Will loves to share the game of golf. He is a US Kids Master Teacher and Head Coach of the Royal Palm Beach Lady Wildcats. Will uses Kwik Golf to create a fun and active atmosphere at his Power Principle Golf Academy. Will also promotes the Randy Myers Golf Stretching Poles to keep his students fit and flexible.