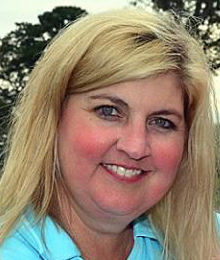 Vikki Vanderpool, PGA
Stumpy Lake Golf Course
4797 Indian River Rd
Virginia Beach, VA 23456
(757) 467-6119
http://www.stumpylakegolf.com/
golfvanderpool@gmail.com
Vikki is the head professional at Stumpy Lake Golf Course in Virginia Beach, Virginia. Vikki has a reputation in the golf business for player development with a list of other awards for teaching including the 2009 PGA Youth Player Development Award and being named one of the first U.S. Kids Golf Top 50 Master Instructors.
Facility type: Public
Past awards/recognitions:
PGA Youth Player Development Award
U.S. Kids Golf Master Instructor
Approximately how many people have you provided a free "tune-up" or lesson to in the past year? 50+
Growth of the game initiatives: 
I added this clinic at my new club and it's selling out quickly. Pinks, Links and Drinks
This is going to be a great clinic for any ladies wishing to get started in golf, or get a refresher on their game or just have fun and meet some new friends that love golf.
Each clinic includes instruction for an hour, followed by a social time with a fun theme drink. AND each participant will receive a ladies shirt with a Pinks, Links and Drinks logo.
Come Join the Fun!
1st Session- Starts May 5th
Time: 6:00-7:30
Thursdays 6:00-7:00 instruction with A Theme Drink following the clinic
4 Sessions
Price: $85 includes instruction, one drink with host Vikki after each clinic and a Pink Links and Drinks Logo Shirt **Deadline to Sign up is April 19th
May 5th- Short Game and Sangrias
May 12th- Irons/ Hybrids with Mimosas
May 19th- Woods/Bunkers with Margaritas
May 26- On course with reception at Simon's Shelter
I sold out of 3 sessions already with already 30 ladies completed with a few more sessions added.