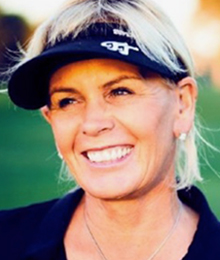 Tina Tombs
TINA TOMBS GOLF@The Arizona Biltmore Golf Club
2400 E Missouri Blvd
2400 E Missouri Blvd, PHOENIX, Arizona 85016, US
tina@tinatombsgolf.com
Please indicate past awards won/recognitions:
GRAA Top 100 Growth of the Game Teaching Professional, Golf Magazine Top 100, Golf Digest Best in State, LPGA Awards, Other (Indicate specific awards below in 3-a)
Other awards won:
2022 LPGA Nancy Lopez Achievement Award, Arizona Golf Hall of Fame, NH Golf Hall of Fame, Arizona State University Sports Hall of Fame, Queen City Hall Of Fame, US Kids Master Teacher, AZ Golf Ed Updegraff Award, ASU Two Time ALL- American
Total number of individual lessons given per year:
Male: 450
Female: 600
Junior: 325
Total number of individual clinics given per year:
250
Please indicate any Growth of the Game initiatives your facility/academy has launched over the past year (please give specifics on such programs):
Growth of the game initiatives:
1. 2-3 Beginner golf schools a season, these are 5 week programs to introduce golf to new golfers in a safe atmosphere that introduces different focuses and allows them to explore.
2. Corporate outings to provide fun networking opportunities while introducing golf to the corporate market
3. LPGA Girls golf programs
4. Hurricane Golf Tour Ambassador
Please share any programming you have made to keep your customers & students engaged:
I send out a Monthly newsletter "Tina's. News and Views'. to engage our students in whats up and what has been happening, We feature. new programs, new technology, golf tips, students accomplishments, and the future month's program schedules that they can sign up for.
We have Junior academy elite programs, 3 hour short game schools, Beginner golf schools, 2 women's class weekly and a beginner junior program along with individual and small group lessons. Classes include technique, adaptations for play and competitions asking students to challenge themselves with pressure situations to take it to the course.
We also provide rules and etiquette programs to all of our classes and corporate outings
We start the season with assessments, set goals and then reassess at the end of the season.
We also have a lot of fun while learning the game!