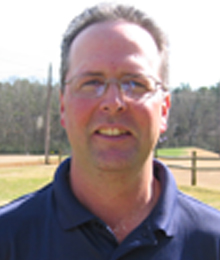 Ted Fort, PGA
Marietta Golf Center
1701 Gresham Rd.
Marietta, GA 30062
(770) 977-1997
http://www.mariettagolfcenter.com
tufpgagolf@yahoo.com
Ted Fort is a three-time award winner in the Georgia PGA Section. He's the 2012 North Chapter Professional of the Year, the 2006 Georgia Section PGA Teacher of the Year, and the 1996 Assistant Professional of the Year. He gives over 1,300 lessons per year and his students have had numerous professional and amateur victories. Additionally, Ted has had two students reach distances of over 400 yards in long drive competitions. As a player, he was able to qualify for the PGA's 2011 Professional National Championship, at the youthful age of 42.
Facility Type: Stand Alone
Past awards/recognitions: 
PGA Section Teacher of the Year
Golf Range Magazine Top 50 Instructor
Technology used in instruction: Casio EX-F1