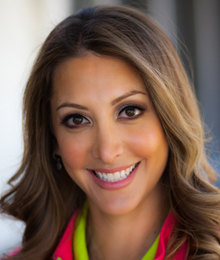 Tasha Browner Bohlig, PGA
El Caballero Country Club
18300 Tarzana Drive
Tarzana, California 91356
(818) 535-0757
http://www.tashabrownergolf.com/
tbrownerpga@gmail.com
Tasha Browner Bohlig is TPI Certified, a U.S. Kids Golf Certified Coach, and a featured Instructor for the Golf Channel's "SwingFix." She is also a co-founder of Swing. Play. Love. Golf., which organizes custom golf trips for women. Tasha takes pride in making the game enjoyable and pain-free for as many subsets of golfers as possible.
Facility Type: Private
Technology used in instruction:
iPad
Edufii
V1
FastCamera
Foresight launch monitor
Orange Peel and Whip
SNAG & U.S. Kids equipment/aids
SLKZ training aids
Approximate number of free "tune-ups" and lessons given per year: 75-100
Growth of the game initiatives: 
SNAG Golf Days: we conduct SNAG golf days that coincide with various dining functions. We setup several stations at
our practice facility where we introduce the game to young golfers ages 3-8. Following the "formal" instruction, we play a
few games, I dress up and dance around in the SNAG suit, and we take photos that are sent to the participants and their
families. Along with SNAG, we also bring in a bounce house. We charge $10 per golfer and give a discount to the families
who attend the dining function to follow.
TPI based Golf Fitness Programs – At our facility, we have two TPI certified individuals (myself and one of our Fitness
Professionals). We are the only facility in the area that offers TPI based programs. We provide TPI assessments and golf
fitness plans that help the golfer to understand how their body functions and how to spend their time at the course and the
gym. The best way to grow the game at our club (median age 60) is to help golfers play "pain free". These golf fitness
appointments are great for the student and the coach and range in price.
Swing.Play.Love.Golf. Trips – In having tremendous success with golf trips for women at our club, a fellow PGA member
and myself have started a new venture along with our daily responsibilities at our respective clubs. Many clubs either can't
or won't take their ladies away on golf trips and we offer a fully customizable golf experience for women. Most of the trips
we have done are three days long and include the rounds of golf, two golf clinics, a mental golf workshop, and two golf
specific yoga classes. We pride ourselves in the details and making sure that the ladies have a great experience with golf.
Many of them have been too intimidated to take golf trips or are just getting into golf so we want to offer a low pressure,
fun exposure to the game and golf travel. (http://www.swingplaylovegolf.com)
Nine, Wine & Dine Twilight Events – We organize 5-6 events per summer where new golfers can play in an ABCD format
with more experienced players in a non-threatening environment. These events are nine holes and we have food/drinks
on every 2-3 holes. These events cost $25 per player and the dinner to follow is not included in the price. We have found
that these events translate into dozens of new golfers finding games to play in and people to play with which can be a big
hurdle when taking up the game.
El Cab Junior Team Practice: We conduct a once per week (2 hours) "junior practice" throughout the year. These
practices offer our more competitive juniors a place to hone their skills as well as providing 10 "home and home" matches
with other area clubs. Each 3 month session costs $300 and we conduct 3 sessions per year. We love these practices
because our juniors get to know one another as well as meeting other golfers in the area.
We currently have programs for all skill levels and ages but the above programs are examples of what we have created in
the last 12 months.
From Beginner to Winner
This twelve (12) week lesson series is an introduction to the game of golf. Students are directed on all aspects of golf, from how to check in before the round to what to do when the round is over and everything in between. With a low 6:1 student to teacher ratio, each student receives personal attention that allows them to learn aspects of the game hat most golfers take for granted.
Simplicity Golf School
Designed for all levels of golfers, the Simplicity Golf School four week series is designed to help golfers of all ages and ability levels through instruction on the full swing, short game, etiquette, rules, on-course instruction and course  management skills. Students use the instruction concepts learned in this course to build a lasting foundation for the game of a lifetime.
Member Golf Clinics (Free)
Weekly clinics held on Saturday mornings designed to help improve members' golf games and increase number of rounds played. These one hour clinics have helped decrease the participants' handicaps and have lead to an increase in rounds played by the members that participate in the clinics.
Friday Family Golf Clinics
Bring the family out to share the experience of golf in the beautiful setting and natural splendor of the Desert Mountain Club (Fall, Winter, Spring,) and the Telluride Golf Club (Summers). Instructors facilitate an hour of fun games and activities for all ages and skill levels.
Coaching Hour
A low-cost supervised practice program where the coach helps the student to discover his/her full potential by inspiring him/ her to reach his/her goals through providing support and a creative learning environment.
Road to Golf (ages 5-18)
The Road to Golf Junior Program is an innovative approach to golf development. Based on the principles of long-term athletic development, this junior program incorporates all the necessary fundamental movements the game of golf requires in a safe, fun and exciting learning atmosphere. This program gives juniors the head start they need to succeed and excel in golf.
Strokes of Genius – this summer long program is designed to give juniors free access to the golf club and to help raise funds for college scholarships. Juniors participate in free weekly clinics, receive free individual lessons, are able to play after 1:00pm for free and can practice for free as well. We also hold an annual tournament and charitable auction that raises money for college scholarships.
I have also participated in the PGA Growth of the Game Initiative Programs, including TEE IT FORWARD, Play Golf America and have been a member of the PGA's Presidents Council for my participating in these programs. This year, I have been a part of the Free Lesson Month, held Get Golf Ready Clinics, and participated in the friend of a card member program and other programs in an attempt to help make golf more readily accessible to and less intimidating to potential new participants. I have also helped raise funds and donations for the last 5 years for the charitable organization Arizona Helping Hands that benefits less fortunate juniors and their families.