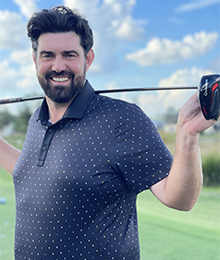 Steven Buzza
Bonita Bay Club
26660 Country Club Dr
26660 Country Club Dr, Bonita Springs, Florida 34134, US
buzzagolf@gmail.com
Please indicate past awards won/recognitions:
GRAA Top 100 Growth of the Game Teaching Professional, Other (Indicate specific awards below in 3-a)
Other awards won:
Golf digest best young teacher
Total number of individual lessons given per year:
Male: 1200
Female: 600
Junior: 175
Total number of individual clinics given per year:
50
Please indicate any Growth of the Game initiatives your facility/academy has launched over the past year (please give specifics on such programs):
Junior coaching which starts on the range and finishes on the course, this ensured every new golfer gets to experience what the course offers, the excitement the course brings and put into content the skills being taught on the range. Use formats on the course that allows everyone to feel apart of the experience and prevent being overwhelmed.
This summer I put a focus on short format social media posts which is a great way to reach golfers new and old. Getting golfers excited to play and interact with their respective coaches, friends, people in the golf business. Through the summer I was achieving over 11M views a month.
I spent the summer in Montauk, NY at a state run facility; this gave the opportunity to work with beginners and more importantly help enthusiastic golfers understand how to integrate into the golfing community, I believe this experience showed to encourage and grow golf skills and knowledge goes well beyond just technical information.
Please share any programming you have made to keep your customers & students engaged:
My focus has been on how I'm able to make my students feel before working on their golf/weaknesses. If a person is anxious/stressed about their situation or the act of coming for instruction, little to no learning will occur regardless of the quality of the delivery.
Using for example breathing, yoga principles and NLP techniques, you can get your student in a great frame of mind and give them the opportunity to interact with the learning experience.
This year I also completed my PGA of America membership; having first becoming a GB&I PGA member over a decade ago and the subsequent learning I have undergone in this time, reconnecting with the foundations again has helped me to reflect and revamp how I'm delivering my programming. This has also been motivating to continue to improve and further grow into 2023 and beyond.