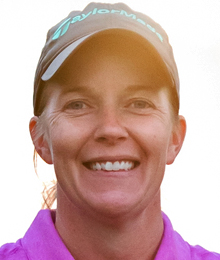 Sarah Bidney, PGA
Wakonda Club
3915 Fleur Drive
Des Moines, Iowa 50321
(515) 491-0940
http://www.desmoinesgolflessons.com/
sarahbidney@dsmgolflessons.com
Sarah Bidney was named the 2015 Iowa PGA Section Teacher of the Year and previously won the award in 2010 and 2012. This year she was also named the Iowa PGA Section Youth Player Development Award winner. She is the only woman to be named the Iowa Section Teacher of the Year and the only Iowa PGA Professional to win both the Teacher of the Year and Youth Player Development Awards in a single season. Sarah is an associate member of the Proponent Group and has received a U.S. Kids Top 50 Kids Teacher Honorable Mention.
Facility type: Private
Past awards/recognitions:
PGA Section Teacher of the Year
GRAA Top 50 Growth of the Game Teaching Professional
US Kids Top 50 Teacher
2010. 2012 and 2015 Iowa PGA Section Teacher of the Year
2015 Youth Player Development Award recipient
Technology used in instruction:
V1 Pro
CoachesEye
iPad
SwingByte
TrackMan
Orange Whip
Approximate number of free "tune-ups" and lessons given per year: 20-25
Growth of the game initiatives:
I was hired in March of this year as the director of instruction at Wakonda Club in Des Moines, Iowa.  I immediately went
to work ramping up their current programs and revising their entire women's instruction offering.  I instated the Get Golf
Ready program in three stages – Golf 101 – Get Golf Ready, Golf 201 – Keep Golf Going, and Golf 301 – Golf with My
Pro (all on-course instruction).  These programs were well received and had approximately 12 women in each of the Golf
101 and 201 classes. The 301 offered several sessions but each were limited to 4 women as I wanted to have a lot of
one-on-one time with the participants on the course.
I offered a Spring Break Junior program a few short weeks after my hire.
I lengthened the PGA Junior League program from a 2-month program (June/July) to April through September. There's talk of offering it in October as well.
I also brought my Advanced junior program "Leading Edge Elite Team" to Wakonda Club. This more than doubled the amount of instruction previously offered to their Elite juniors and added four tournaments (6 tournament days total) to the season. It was a successful program with 9 juniors on the team. All kids who tried out for their High School teams made it!
This winter I will be conducting an 8-week junior program and private lessons in our heated hitting bays/instruction
In addition I wanted to mention my push this season to grow my knowledge as an instructor. I have attended over 40 hours of educational seminars and meetings this year and will be attending the Proponent Group's Teaching and Coaching Summit in Dallas in early November. I was accepted as an Associate Member of this group and have really valued their online educational video offerings.