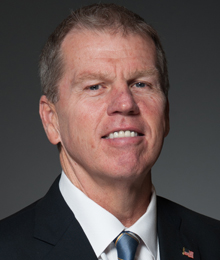 Ralph Landrum, PGA
World of Golf
7400 Woodspoint Dr.
Florence, Kentucky 41042
(859) 371-8255
rlandrum@landrumgolf.com
Ralph Landrum is the PGA Mater Professional at the World of Golf (a GRAA Top 100 Stand Alone Facility) in Florence, Kentucky. He is a former PGA Tour member and has played in 13 major championships. Ralph won the 2014 PGA Player Development Award, the Kentucky PGA Section's Growth of the Game seven-straight years, has twice won the Kentucky PGA Section Youth Player Development Award as well as the Kentucky PGA Section Golf Professional of the Year.
Facility type: Public
Previous awards/recognitions:
2014 PGA National Player Development Award
Kentucky PGA Section Golf Professional of the Year
Seven-time Kentucky PGA Section Growth of the Game Award winner
Two-time Kentucky PGA Section Junior Golf Leader
Kentucky Golf Hall of Fame member
Technology used in instruction:
V1 Pro
FlightScope
Swingbyte
aboutGolf Simulator
SAM Putt Lab
Boditrak
Approximate number of free "tune-ups" and lessons given per year: 150
Growth of the game initiatives:
Get Golf Ready: A program for less experienced golfers to feel more comfortable & informed while playing the game of golf.
Ladies Instructional League: A league for women of all skill levels to improve their golf game while enjoying a fun, social setting.
Pee Wee Golf: A set of programs for children ages 4-7 that sparks an interest in golf, while learning the basics in a fun environment.
Junior League Golf:A program that is for children ages 8-14 that children of all skill levels participate in.
High School Prep:This program helps teenagers who have an interest to play golf on their high school team.
PGA Junior League:A fun, family oriented, competitive golf league where players get valuable experience competing in tournaments.Additionally, World of Golf Staff visited 12 schools, visited the Boys & Girls Club, the local Minor League Baseball team, and worked with the local board of education. Also, Ralph Landrum is committee chair of the Kentucky PGA Player Development Committee.