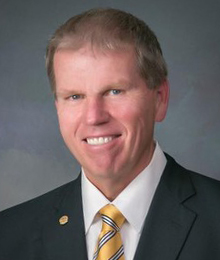 Ralph Landrum, PGA
World of Golf
7400 Woodspoint Dr.
Florence, Kentucky 41042
(859) 371-8255
rlandrum@landrumgolf.com
Ralph Landrum is a former PGA Tour member and a PGA Master Professional. He won the 2014 PGA Player Development Award after winning the same award from the Kentucky PGA Section for seven straight years and has twice won the Kentucky PGA Youth Player Development Award and Golf Professional of the Year.
Facility type: Public
Previous awards/recognitions:
2014 PGA National Player Development Award
2012 GRAA Top 50 Growth of the Game Teaching Professional
Kentucky PGA Section Golf Professional of the Year
Seven-time Kentucky PGA Section Growth of the Game Award winner
Two-time Kentucky PGA Section Junior Golf Leader
Kentucky Golf Hall of Fame member
Technology used in instruction:
V1 Pro
FlightScope
Swingbyte
aboutGolf Simulator
SAM Putt Lab
Boditrak
Approximate number of free "tune-ups" and lessons given per year: 150
Growth of the game initiatives:
Get Golf Ready: A program for less experienced golfers to feel more comfortable & informed while playing the game of golf.
Ladies Instructional League: A league for women of all skill levels to improve their golf game while enjoying a fun, social setting.
Pee Wee Golf: A set of programs for children ages 4-7 that sparks an interest in golf, while learning the basics in a fun environment.
Junior League Golf:A program that is for children ages 8-14 that children of all skill levels participate in.
High School Prep:This program helps teenagers who have an interest to play golf on their high school team.
PGA Junior League:A fun, family oriented, competitive golf league where players get valuable experience competing in tournaments.Additionally, World of Golf Staff visited 12 schools, visited the Boys & Girls Club, the local Minor League Baseball team, and worked with the local board of education. Also, Ralph Landrum is committee chair of the Kentucky PGA Player Development Committee.