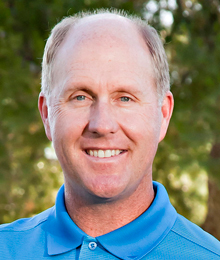 Michael Haywood, PGA
Tucson Country Club/The Player's Institute
2950 North Camino Principal
Tucson, Arizona 85715
(520) 822-6200
michaelhaywood@me.com
Michael is widely regarded as one of the preeminent innovators in the private club industry specializing in program and marketing development. His current instructional clientele reaches from the new learner to the LPGA and Web.com tours. Michael has served the PGA of America at every elected level of governance to include a term on the PGA Board of Directors, and was a 2014 candidate for PGA of America secretary. His accomplishments include being a two-time Southwest PGA Section Golf Professional of the Year and two-time Section Horton Smith Award winner, to include numerous other instruction and clubfitting awards.
Facility type: Private
Past awards/recognitions: 
GRAA Top 50 Growth of the Game Teaching Professional
Golf Digest Best in State
Southern Chapter/Southwest Section PGA Teacher of the Year
3-time Ping Regional Clubfitter of the Year
2006 & 2012 Southwest Section PGA Professional of the Year
Nominated as Southwest Section PGA Teacher of the Year 13 times.
Technology used in instruction:
iPad
iPhone
V1 Pro Academy
FlightScope
Zelocity
Casio camera
Randy Meyers Stretching Pole
Eyeline Balance Rod and Mirrors
Ernest ES14 Launch Monitor
Pendulum Putting Rod
Bunker Pro System
Impact Cube
Target Circles
The Perfect Putter
SNAG Golf Adult & Junior
Momentus Swing Trainer
Orange Whip Swing Trainer
The Putting Arc
Approximate number of free "tune-ups" and lessons given per year: 500+
Growth of the game initiatives:
While we provide a number of different programs (as seen below and discussed at various GRAA events), our greatest strength is the marketing of our programs. We have 6-7 different touch points in the golf shop of which 3-4 serve as player development or game improvement programming. Every single day a member can walk into the Golf Shop and see in-depth information on club fitting (of which we are heavily into), clinics, demonstration days, individual instruction and more. Every week we provide a FREE 2-hour session on the range (called 'Tips from the Pro's) with food & beverage, instruction and more, all for no charge.
Programs Include: Fairway's of Success Program – Mentoring youth players through our league and summer programming. Provides guidance to our youth for success in the game and in life.Get Golf Ready Programs, our newly developed Tucson Junior League started by myself that engages area clubs in a PGA Junior League concept in the "non-PGA junior league" season. We conduct arguably the finest Drive, Chip, and Putt event in the country that is a great way to encourage growth and excitement in our youth throughout the year. Other relevant programs include: Golf For Life Initiative (for the senior members), SNAG Arizona (our in the parks programming done by my wife and myself), Tennis to Golf Program (encouraging women tennis players to play the game following our weekly ladies clinics). Our 'Ladies Inside the Ropes' program is our weekly ladies clinics throughout the season. New for 2014 & 2015 was our TCC Junior Golf Tours (fun programming that brought our junior golfers together to participate in Pro-Junior events, travel to LPGA, Senior & PGA Tour events with the professional staff), and participate in other travel related events with our staff showing the junior the balance in golf and in life. And….our TCC Junior Academy which houses ALL of our junior events, summer, holiday and a variety of other clinics. Currently work with several players on both the LPGA and Web.com Tours to include LPGA Tour Star Alison Walshe.
Other Related Things: Former chairman of the PGA of America's National Apprentice Committee, a Past Chapter & Section President and former member of the PGA National Board of Directors. Currently Chairman of the Southwest Section PGA Governance Committee and a member of the PGA of America's National Teaching & Coaching Committee. Frequent guest speaker at Teaching & Coaching summits, workshops, and GRAA events across the country.