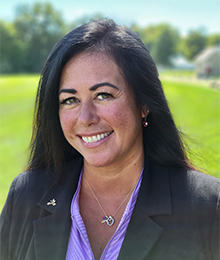 Marissa Kulig Crow
Lyman Orchards Golf Center
700 Main Street
700 Main Street, Middlefield, Connecticut 06455, US
mcrow@lymangolf.com
Please indicate past awards won/recognitions:
GRAA Top 100 Growth of the Game Teaching Professional, LPGA Awards, Other (Indicate specific awards below in 3-a)
Other awards won:
2022 LPGA National Professional of the Year, 2022 LPGA Northeast Professional of the Year, 2021 LPGA National Teacher of the Year, 2021 LPGA Northeast Teacher of the Year, 2019 LPGA Northeast Teacher of the Year, 2021 GFAA Award Winner
Total number of individual lessons given per year:
Male: 25
Female: 900
Junior: 20
Total number of individual clinics given per year:
865
Please indicate any Growth of the Game initiatives your facility/academy has launched over the past year (please give specifics on such programs):
Golf Fore Women 101 – 725 students in 2022 meeting five consecutive weeks (3,625 visits to facility) This class has been our number one growth of the game initiative and is our feeder program into our four other tiered classes as well as our two women's leagues. (280 players)
This introductory class is designed for golfers that have never played. In five 75 minute lessons, our instructors will cover everything you need to know to play your first round of golf. Classes will cover the basics of the golf swing, putting, short game techniques, rules and etiquette. The instructors will also discuss what you need to golf, therefore it is recommended that you do not go out and buy clubs until you have started this class. You will be given a static club fitting which will allow the instructor to make a recommendation as to which clubs to buy.
● Five consecutive 75 minute classes
● This class was created for students who have no past golf experience
● Classes will cover the basics of the golf swing, putting, short game techniques, rules and etiquette
● A workbook/reference guide will be provided
● Golf clubs are not needed; clubs/sets will be recommended
● Coupons handed out (10% off merchandise, small range baskets and an Apple 9 round) – $30 value
● Complimentary warm-up balls prior to each clinic – $30 value
● Minimum of 4 students; maximum of 10:1 ratio (student:instructor)
Summer Tuneups ran in August – 50 students
90 minute class meeting two consecutive weeks
4:1 student to instructor ratio
One range session covering full swing with video analysis
One range session covering short game including: chipping, pitching, bunkers and putting
One complimentary pass for a round of golf on the Apple 9 and one complimentary pass for a round of golf on the Player/Jones
Please share any programming you have made to keep your customers & students engaged:
I created the "Golf FORE Women" Program and offers five levels, Golf Fore Women 101 progressing to 501. This program provides golf enrichment for beginning golfers to seasoned golfers looking to enhance their overall playing performance. To sustain steady growth, a detailed program with specific curriculum and scheduling was created, promoting next level registration in a seamless, uncomplicated manner. What makes this program successful is that the women are put at ease and welcomed with open arms on day one. The instruction is kept simple but is informative and relevant. Students are learning as well as laughing and having fun and are extremely excited and anxious for the next class. 1,600 women have taken Golf Fore Women classes meeting five consecutive weeks each program session. (8,000 visits to the facility) In one season, there are five sessions. Spring I Session is March through April; Spring II Session May through June; Summer Session I is mid June through mid July; Summer Session II is end of July through August and finally the Fall Session starts the week after Labor Day and ends in October. All classes from November through early March are indoors taught in our simulators.
Extra classes that I have created and offer are Spring Tune Ups, Practice with the Pros and Yoga for Golfer's (YFG). The Spring Tune Up class has a maximum of four students and is a three week refresher course in March and April. Practice with the Pro sessions are one hour supervised range time with a pro spot checking and reviewing the fundamentals on one specific topic. Yoga for Golfer's is a class that incorporates flexibility, strength, balance, core conditioning, and breathing awareness. YFG also teaches focus, relaxation and visualization techniques. The sequence of postures is carefully designed to meet a golfer's specific needs. These classes take place on the golf course with beautiful views.
Practice with the Pro – 1,146 students = $3,200
Spring Tuneup – 125 students = $24,545
Yoga for Golfer's – 168 students = $2,520
Ladies Golf League – 280 players (85% of the players have or currently taking Golf Fore Women classes)
Golf Fitness
-Level II Katherine Robert's Yoga for Golfer's Instructor offering classes twice a week in season on property and three classes a week November through April
-CardioGolf Certified trainer offering classes three times a week January through April