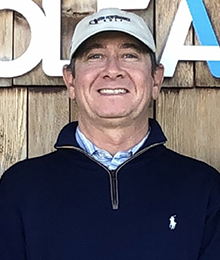 Larry Ward
High Performance Golf Academy
5600 Harrodsburg rd
5600 Harrodsburg rd, Nicholasville, Kentucky 40356, US
larryward@larrywardgolf.com
Please indicate past awards won/recognitions:
PGA Section Teacher of the Year, GRAA Growth of the Game Teaching Professional, Golf Digest Best in State, Other (Indicate specific awards in 3-a below)
Other awards won (if provided):
Future Champions top 25 Elite jr coach
Total number of individual lessons given per year:
Male: 250
Female: 125
Junior: 1000
Total number of individual clinics given per year:
50
Please indicate any Growth of the Game initiatives your facility/academy has launched over the past year (please give specifics on such programs):
PGA junior league. After jr. academy for kids 6-15 runs 4 days a week with most kids attending 2 days a week. Fitness training individually as well as group. Group instruction for ladies as well as a full service fitting program with a mobile component.
Please share any programming you have made to keep your customers & students engaged:
Most of my personal instruction is with students that make a one year commitment. I schedule out these players from 30 to 60 lessons per year. As far as the academy all instructors are required to follow up and keep progress reports as well as promote a holistic approach with instructors. 5 instructors in total teaching over 6000 hours of instruction.