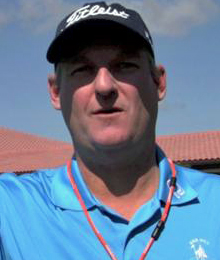 Kevin Weeks, PGA
Cog Hill Golf and Country Club
112294 Archer Avenue
Lemont, Illinois 60439
(630) 301-9357
Coghillpro@aol.com
Kevin Weeks is among Golf Digest's Top 50 Instructors and Golf Magazine's Top 100 Teachers. In addition, he is a U.S. Kids Golf Master Instructor and a three-time Illinois PGA Section Teacher of the Year. Since 2002, over 50 PGA Tour players, who have won over 60 professional tournaments and four major championships, have visited Kevin's putting lab, seeking his advice.
Facility type: Public
Past awards/recognitions:
PGA Section Teacher of the Year
GRAA Top-50 Growth of the Game Teaching Professional
Golf Magazine Top 100
Golf Digest Top 50
Golf Digest Best in State
U.S. Kids Golf Top 50 Teacher
U.S. Kids Golf Master Kids Teacher
Technology used in instruction:
V1
Swing Catalyst
Sam Putt Lab
Sam Balance Labe force plate
Trackman Launch Monitor
Quintic Ball Roll
Dynamic Impact Indicator
Approximate number of free "tune-ups" and lessons given per year: 100+
Growth of the game initiatives: 
Over the past 2 years I have had a fall and spring PGA Junior League program that was instruction based on Thursdays
after school. This year I added a Sunday afternoon scramble to it, just like they play in the official league. The response
was overwhelming and we had double the entries in our fall league due to this.
I am going to try and do PGA Junior League this winter with instruction on Thursday afternoons after school with play
being on simulators on Saturday and Sunday afternoons.
I have over 100 kids in our summer PGA Junior League, this summer I made it a focal point to get out on the golf course
with the younger players to help them learn to play the game better and to make better on course decisions.
One of the things I added this year was a junior demo day. On Good Friday, I had the US Kids Golf rep come out and fit
kids. We had all types of games, putting contests, driving contests, wedge competetions where the kids just had fun. Also
set up were tables describing all of our programs, initiatives for the summer, and tournament opportunities.