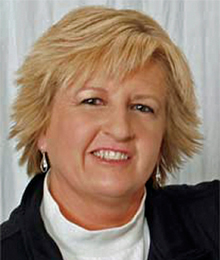 Kathy Gildersleeve-Jensen, PGA
Indian Canyon Golf Course / Golf Results Now Golf Academy
4304 W West Dr
Spokane, Washington 99224
(509) 998-2303
http://www.golfresultsnow.com/
Kathy@GolfResultsNow.com
Kathy was the 2014 PGA Teacher of the Year and the first woman in PGA history to receive one of the PGA of America's highest honors. Her other accomplishments include being named a GRAA Top 50 Growth of the Game Teaching Professional four times, and a Golf Digest Best Teacher in State in 2013 and 2015. Golf Results Now is her brand on the internet. Kathy has received many prestigious honors in golf and business. Her talents include speaking at events, guest teaching, social media, e-commerce golf shops, endorsements and licenses. She is the author of an e-book, an editor of many golf articles, has been featured on the Golf Channel, television, radio and many other multi media channels to grow the game for the masses.
Facility Type: Public
Past awards/recognitions: 
PGA Section Teacher of the Year
PGA National Teacher of the Year
Henry Griffitts Master Golf Club Fitter
PGA President's Council for Growing the Game
U.S. Kids Golf Top 50 Teachers Honorable Mention
GRAA Top 50 Growth of the Game Teaching Professional
Golf Digest Best in State
2015 Women in Business Leadership Award
Technology used in instruction:
Golf Coach Direct
V1
PuttPure
Golf Chute
Orange Whip & Orange Peel
GameGolf
Henry-Griffitts Precision Fitted Golf Clubs
Fisher Putters
RAKE Wedges
Scarlett's 4K Simulators
aboutGolf simulator
TrackMan
FlightScope
iPad and iPhone
Convert-A-Hole Putting Trainer
SNAG
Growth of the game initiatives: 
We have gone to PE Classes in schools, but the past couple of years I have attended High School Business Classes and spoke on the importance of Golf in elevating their careers through business golf. Explaining the benefits of golf and the business industry. Very rewarding and more new players for the future. Being the First Woman in PGA History to become the recipient of the 2014 PGA National Teacher of the Year has opened other opportunities to expose the game of golf for women. Recently, I received a non-golf award…2015 Business Women's Leadership Award. The recipients were so impressive and most of them did NOT play golf, however they donate their time to volunteer for amazing causes. I gave a speech on how they should take up the game of golf and raise money for their causes through golf tournaments. It is easier for sponsors for come on board, fun experience and the fund raising is much easier to raise the funds for causes. Now, I am teaching groups on this particular subject. Win for all! Now, I am encouraging all Pros to look into building players, building tournaments, and raising funds that these leaders can volunteer for, learn the game and play for a lifetime.