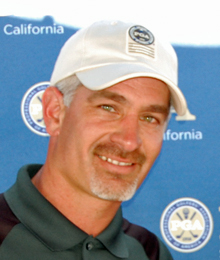 Josh Alpert, PGA
The Lakes at El Segundo / Good Swings Happen Junior Golf Academy
400 South Sepulveda Blvd.
El Segundo, California 90245
(310) 503-5070
josh@joshgolf.com
Josh Alpert, founder of Good Swings Happen Junior Golf Academy, teaches players of all ages and skill levels, specializing in junior programming at The Lakes at El Segundo. One of his mottos, "What is My Opportunity Now?" speaks to the importance of a postitive attitude while practicing and playing golf.
Facility Type: Public
Past Awards/Recognitions: PGA Section PGA Youth Development Award
Growth of the Game Initiatives: 
I created "Junior Golf Fore Life Day" in 2015 and 2016. This "free golf day" had over 250 participants each of the first 2 years. The objective was to create a "fair like atmosphere" where junior ages 4-17 of all skill levels could experience our game in ways that are safe, fun and challenging. The following is a menu of some of the aspects of the day:
Intro to Golf (Beginning Golfers Ages 5-7) **parent attendance required**
• 1st hole at The Lakes will be converted into a SNAG Facility. Games, challenges and learning stations ideal for introducing our smallest golfers into the game. Sign up for programs!!!
Challenge Stations for all Skill Levels (Ages 7-15) **parent attendance welcome**
• Putting and short game challenges and contests to test your skills (led by sponsors – prizes)
Drive, Chip and Putt (practice and preparation)
• 3 stations will be set up to practice for the real event. **PGA Instructors will assist to prep!!!
Technology / Equipment Zone (Driving Range)
• Trackman station on the driving range so you can see your stats (guess your distance)
• US Kids and Nike Demo Day – Are your clubs right for you?
Information Area
• Lakes at El Segundo Camps and Programs.
• SCGA "Junior" information and sign ups (Savings for Jrs. are HUGE!!!)
• SCPGA Tournament information and sign available on site
• Tournament and League Play opportunities for juniors of all ages and skill levels
o SCPGA, US Kids, FCG, LA County, PGA JR. League, Good Swings Happen and more…
On Course Play
• "Hole in 1" Challenge
• Various Games and Challenges on several of the 9 holes at The Lakes
Junior League Play Zone
• Come play 3 holes of "team golf" in the same format as the PGA JR. League!!!
Additional Items
BBQ, drinks + live music, raffle prizes and more!