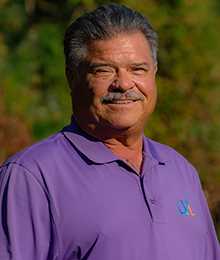 John Hughes
John Hughes Golf
Falcon's Fire Golf Club
3200 Seralago Blvd.
Falcon's Fire Golf Club 3200 Seralago Blvd., Kissimmee, Florida 33844, US
https://www.JohnHughesGolf.com
john@johnhughesgolf.com
Please indicate past awards won/recognitions:
PGA Section Teacher of the Year, GRAA Top 100 Growth of the Game Teaching Professional, Other (Indicate specific awards below in 3-a)
Other awards won:
2013 PGA of America Professional Development Award Recipient, Golf Tips Magazine Top 25 Instructor
Total number of individual lessons given per year:
Male: 2000
Female: 500
Junior: 750
Total number of individual clinics given per year:
24
Please indicate any Growth of the Game initiatives your facility/academy has launched over the past year (please give specifics on such programs):
Operation 36 classes in full operation for 2022 with 75 percent retention and/or upgraded to an individual program.
Play Golf Now Clinics see at least 6-8 individual participate 2x monthly.
Contribute over $70k to gross revenue of facility yearly with ancillary purchases of f/b, pro shop, tee times, groups, and events.
Please share any programming you have made to keep your customers & students engaged:
Custom Coaching – a twist on the traditional "package" of lessons. Does not pigeon hole a client into a set time limit of lessons and allows a "bank" of time to be used anywhere at the facility for any length of time.
Memberships -grew from 1-11 memberships of 10+ hours each month during 2022. Include all technology platform subscriptions with membership.
Virtual coaching conducted with current clientele from around the world. Approximately 250 hours of virtual coaching conducted to date.