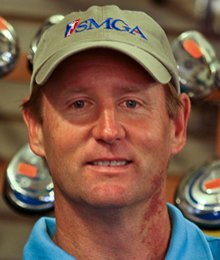 Jim Estes, PGA
Jim Estes Golf Inc.
3414 Emory Church Road
Germantown, MD 20876
(301) 807-4458
jestes@olneygolfpark.com
Jim is a U.S. Kids, TPI and Level 2 K-Vest certified instructor. Jim is a co-founder of the Salute Military Golf Association and his work at Olney Golf Park includes establishing a PGA/Disabled Sports Program and designing and leading a staff-teaching curriculum, which led to a $300,000 increase in revenue. He is the 2010 PGA Patriot Award winner and the 1995 PGA Player of the Year. Jim qualified for the 2017 Senior PGA Championship, where he finished as the Low Club Professional.