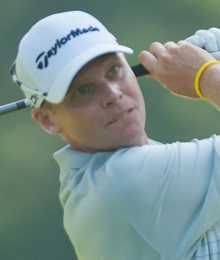 Jason Aichele, PGA
Meadow Springs Country Club
700 Country Club PL
Richland, Washington 99352
(509) 435-6814
Aichelej22@aol.com
As the PGA director of instruction at Meadow Springs Country Club in Richland, Washington, Jason Aichele is the 2014 and 2015 Pacific Northwest PGA Section Teacher of the Year. Jason designed and built one of the premier indoor facilities in his front yard of his home. It's a 3,200-square-foot building that consists of six hitting bays, a 100-square-foot putting green and fitness area. His vision in this building was help grow the junior golf program and help kids obtain college golf scholarships by able to work on their golf games all year long in the harsh winter months. This year Jason started PGA Junior Golf League at his facility and had 45 kids participate, enough participants to have their own league.
Facility Type: Private
Past Awards/Recognitions:
PGA Section Teacher of the Year
Chapter PGA Teacher of the Year
Chapter PGA Youth Development Award
Growth of the Game Initiatives: 
To help grow the game where I live with the cold winter months I designed and built a indoor facility in my front yard. This indoor facility is 3200 square feet with 6 hitting bays, launch monitor/simulator, 1000 square foot putting green and weight room. This was built to help kids in my area achieve college scholarships. This way they have a place in the winter to work on their games all year long. With this I do a year long coaching program for these kids that help them with not only their golf games but nutrition, tournament scheduling, college resumes. This indoor facility also has tripled the golf club/hard goods sales at Meadow Springs Country Club. I also started the first PGA Junior golf league at our facility and in our first year we had 45 kids participate. This is the highest number of kids to participate at one facility in the Pacific Northwest. I also do a four seasons junior golf program that allows younger kids to participate in golf every season of the year. This way they don't have to stop playing golf in the cold Washington winter months. (I will attach a picture of the indoor facility I built) Its about 5 mins from the Country Club I teach at.