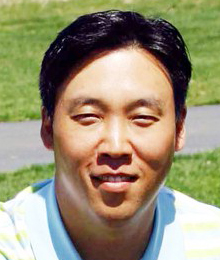 James Hong
Harbor Links Golf Course
1 W. Fairway Drive
Port Washington, New York 11050
(516) 767-4818
jhong@palmergolf.com
James Hong is a U.S. Kids Golf Lifetime Master Teacher, TPI golf professional and is Lynn Blake certified. James is also an active contributing columnist for Golfing Magazine.
Facility Type: Public
Past awards/recognitions: 
GRAA Top 50 Growth of the Game Teaching Professional
US Kids Golf Top-50 Teacher in America
2012 U.S. Kids Golf Top 50 Lifetime Master Teachers
Technology used in instruction:
V1 Pro
FlightScope
E6 Simulator Software
Boditrak
K-Vest
Foresight GC2
GASP System
Swingbyte
Speed Swoosh
U.S. Kids Golf Coaches training kit
SKLZ Hurricane trainer
Orange Whip
Swinggyde
Tour Striker
Smart Ball
Impact bag
LeaderBoard
Eyeline Golf putting mirrors
Wright Putting T-Bar
Super Speed Golf speed training sticks
Approximate number of free "tune-ups" and lessons given per year: 35
Growth of the game initiatives:
Harbor Links Golf Course was once again a proud host of the local qualifier for the National Drive, Chip, and Putt Championship in the Metropolitan PGA Section this year, and over 60 kids participated. Many of our juniors participated in the PGA Junior Series at clubs where they are members at. Our "Harbor Links Junior Tournament Series," now in its second year, continued to provide for local junior golfers, who are considering playing competitively, an opportunity to experience what it is like to play in tournaments. A new junior program, "Fore Girls Only," was designed to promote junior golf instruction for girls that wish to become more competitive players. Our PAR programs for beginners expanded this season to include 5-to-8 year olds, and they have been filled to the maximum, both in the Spring and the Fall. My adult "Beginners Level 1/2/3" programs continued to develop new golfers to be course-ready within three months. The goal was to remove the intimidation of learning a hard game by making the learning environment enjoyable and receptive to beginners, as well as fiscally friendly. Once Level 3 is completed (22 golfers have done so, 11 more than 2015), each student is capable of playing the 9-hole Executive Golf Course, if not the 18-hole Championship Course. Since I began this program last season, all of the golfers that have completed the three levels now play on a regular basis, as well as take individual lessons, or attend one of the weekday clinics. This year, I created a new program called, "The Scoring School." It was a spinoff to the "5-5-5 Program" that I started three years ago. "The Scoring School" is designed specifically for the golfer of any skill level that plays frequently, focusing on improving score through better course management and shot selection. It is a 4-week program, with each session lasting 90 minutes, and sometimes 2 hours, in length. This program has been hugely popular amongst the players that participate in leagues. One woman, in particular, dropped 10 shots from her 9-hole average (from 54 to 44) playing in a weekly women's league.