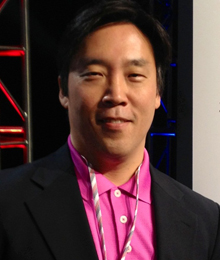 James Hong
Harbor Links Golf Course
1 W. Fairway Drive
Port Washington, New York 11050
(516) 767-4818
jhong@palmergolf.com
James Hong is a U.S. Kids Golf Lifetime Master Teacher, TPI golf professional and is Lynn Blake certified. James is also an active contributing columnist for Golfing Magazine.
Facility Type: Public
Past awards/recognitions: 
GRAA Top 50 Growth of the Game Teaching Professional
US Kids Golf Top-50 Teacher in America
2012 U.S. Kids Golf Top 50 Lifetime Master Teachers
Technology used in instruction:
V1 Pro
FlightScope
E6 Simulator Software
Boditrak
K-Vest
Foresight GC2
GASP System
Swingbyte
Speed Swoosh
U.S. Kids Golf Coaches training kit
SKLZ Hurricane trainer
Orange Whip
Swinggyde
Tour Striker
Smart Ball
Impact bag
LeaderBoard
Eyeline Golf putting mirrors
Wright Putting T-Bar
Super Speed Golf speed training sticks
Approximate number of free "tune-ups" and lessons given per year: 35
Growth of the game initiatives:
Excluding the summer months of July and August, I held upwards of 290 clinics in a yearly cycle for adults and for juniors.  From September 1 to November 30, I have 5 junior clinics and 3 adult clinics each week. Three of the junior clinics are the BIRDIE Program (Tuesdays and Wednesdays at 4:00-5:30 pm; Sundays at 2:00-3:30 pm), and the other two are the Pre-Elite and Elite Programs (Thursdays and Fridays at 4:00-5:30 pm). The adult clinics are any combination of "Beginners Level 1," Beginners Level 2," and "Beginners Level 3," and a weekly Thursday clinic that focuses on hitting the driver and fairway woods. In addition, I also teach an Aimpoint Express 90-minute clinic once a month. From December 1 to March 30 (minus holidays, PGA Merchandise Show week, and Winter recess), I hold four junior clinics a week for the Pre-Elite and Elite juniors. These are one-hour programs that focus entirely on improving fitness and coordination. Any junior in the BIRDIE Program is also welcome to join. For adults, I hold two monthly clinics that teach golfers how to practice at home or the office during the winter. From April 1 to June 30, I return to the five junior clinics and three adult clinics a week mentioned above. I add on one additional adult clinic, called the "5-5-5 Program." Each month, I also teach an Aimpoint Express clinic. During the summer, every week has a junior camp in the morning (Monday-Friday), and a Pre-Elite/Elite junior training program in the afternoon (Tuesday-Friday). Both programs are four hours a day. In addition, I hold a BIRDIE Program on Thursday (2:30-4:00 pm) and Sunday (2:00-3:30 pm). For adults, I continue the Beginner Level 1, 2 and 3 programs, the "5-5-5 Program," and three more Aimpoint Express clinics. For Juniors: BIRDIE Program – this is for juniors that have some experience with lessons and playing, or have a rudimentary understanding of basic concepts, and want to focus more on developing playing and scoring skills. Half of the time is spent on the range, and the other half out on the course. Each session is 90 minutes long. Juniors are periodically tested on their skills level, and can graduate to the Pre-Elite Program. Pre-Elite and Elite Program – these are for the serious, competitive juniors that want to improve scoring skills as well as develop a better mental approach to the game. Fitness is a core part of the program as well, especially during the winter. Pre-Elite are the kids whose average score for 18 holes is in the 80's; Elite are for the kids that regularly score in the 70's. These sessions are 90 minutes long. For Adults: "Beginners Level 1" – this is a one-month program that meets once a week for supervised practices, as well as two ½-hour individual lessons for each student. The purpose of the program is to introduce the basic concepts of the game to beginners, or those golfers who consider themselves on a beginner level. "Beginners Level 2" – students that have completed the Level 1 program graduate to the Level 2 program. Each student receives two ½-hour individual lessons, as well as the weekly supervised practices for one month. In the Level 2 program, the focus of the first two practices is on-course situations, such as uneven lies. The final two weeks are held on the 9-hole Executive Golf Course. "Beginners Level 3" – students from Level 2 graduate to Level 3. In this program, each week's supervised practice is 90 minutes on the Executive Course. Each student gets two ½-hour individual lessons as well. By the time a student completes Level 3, they should be relatively self-sufficient on the golf course to play on a regular basis. They can choose to continue their learning with individual instruction, clinics, or a combination of both. "5-5-5 Program" – This is a five-week program that focuses on one shot a week (5 shots total) that
will save five shots from your score. Each week is a 90-minute clinic that focuses on learning and mastering ONE shot for the course. The shots may include greenside bunker shot from varying lies, the 30-yard pitch, and lag putts. With this knowledge, the goal is to be able to shave at least five shots from your score. Aimpoint Express Clinic – this is a 90-minute clinic designed to teach the Aimpoint Express method of reading greens. Weekly Driver Clinic – At Harbor Links, each weekday is devoted to a single subject, and each one of the instructors has a day. Monday: Fore Beginners Only/Tuesdays: Short Game/ Wednesdays: Basics of Irons and Hybrids/ Thursdays: Basics of Fairway Woods and the Driver/ Fridays: Fore Women Only. Each clinic is one hour long.