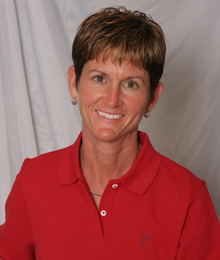 Helen Kurtin, PGA
Golf Body Performance Center
13550 W. Watson Rd.
Sunset Hills, MO 63127
(314) 843-3000
hkurtin@golfbodypc.com
Helen Kurtin, co-founder of Golf Body Performance Center is a member of The PGA of America and LPGA. One of the top golf instructors in the Midwest, she was named the 2007 LPGA Midwest Section Teacher of the Year as well as the 2001 Golf for Women Magazine Top 50 Teachers in the US and Canada. Her advanced certifications include, TPI Certified Golf Fitness Professional, Level 3 and TPI Certified Junior Coach, Level 3. She coached 2013 Tour Rookie Scott Langley for 6 years as well as 16 collegiate scholarship recipients.
Facility Type: Public
Past awards/recognitions: LPGA Awards
Technology used in instruction:
V1 Pro

3D 4 Sensor
My TPI.com Fitness
Impact bag
Approximate number of free "tune-ups" and lessons given per year: 20
Growth of the game initiatives:
PGA Welcome to Golf Month

Gateway PGA Section Junior Combine
Long-term athletic development programs
Clinics for juniors with hemophilia