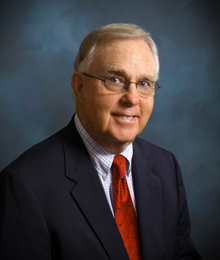 Hank Johnson, PGA
Timberline Golf Club/Hank Johnson School of Golf
300 Timberline Trail
Calera, Alabama 35040
(205) 529-8546
http://www.hankjohnsonschoolofgolf.com
hankjohnsongolf@gmail.com
Born in Birmingham, Alabama, Hank played collegiate golf at Auburn University and played on the PGA Tour for two years in the late 1960s. He is a Golf Magazine Top 100 Teacher and a Top 50 Golf Digest Teacher. He was named as the 2004 PGA Teacher of the Year and is a member of the Alabama Sports Hall of Fame.
Facility Type: Public
Past awards/recognitions:
GRAA Growth of the Game Teaching Professional
PGA National Teacher of the Year
PGA Section Teacher of the Year
Four PGA Section Horton Smith Awards
Golf Magazine Top 100
Golf Digest Top 20
Golf Digest Top 50
Golf Digest Best in State
2001 Inductee Alabama Sports Hall of Game
2013 Edwin Watts Top Golf Instructor
4-Time Horton Smith Award (PGA Dixie
Section) Winner
Athlon Sports Magazine Elite 8 World's Best Golf Teachers
Technology used in instruction:
JC Video
BirdieFire
Trackman
Approximate number of free "tune-ups" and lessons given per year: 25
Growth of the game initiatives:
Our Instruction Program in 2014 began the "PGA TOUR Analysis Project" which is a trip for our junior golfers to the PGA TOUR Championship at East Lake for a day of learning and fun. The first year we took 20 students and 10 chaperons (8 parents), and this year we nearly doubled that number to include 38 students and 17 chaperons (14 parents). We take a charter bus bright and early from Birmingham, AL to Atlanta, GA for the final round of the TOUR Championship at East Lake. The first half of the day the students have assignments to complete that teach them about various playing and practicing aspects of the game. They begin with the "Science of Warmup" observing their favorite Tour players and recording their observations regarding style, technique, shot count, demeanor, shot selection, tempo and more. Following that we watch one group for five holes and record their pre- and post- shot routines, reaction to shots, and statistics for those holes. In the final assignment, they go with a chaperon and follow a player for at least three holes and pretend to be their caddy; writing down their shot selections for that player and the reasoning for that specific plan. The rest of the day they may follow the group of their choice or stay in the autograph section to meet their favorite players. It is day in which the kids (and parents) learn tremendously, a day of great fun watching their favorite players, and a day that motivates them to work hard as we move into the off-season. Every student always asks: "Can we go again next year?" So we will continue with our 3rd Annual Trip in 2016!
We recently moved the Hank Johnson School of Golf to Timberline Golf Club in May of 2014 and since then have helped that facility to increase their rounds by over 1000 per year after several years of no growth, increased their sales by $30,000, we have directly added 7 members (4 of them family memberships), and dozens of our other students regularly play at the facility. We have also increased the junior golf participation substantially at the facility and our weekly junior programs now serve at least 10 children per week (given that we only have two full-time instructors)…a service that the facility did not offer in the past.