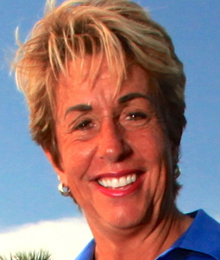 Deb Vangellow, LPGA
Riverbend Country Club
1214 Dulles Ave.
Sugar Land, TX 77479
http://www.debvangellowgolf.com
debbievang@mac.com
Deb is the 2012 LPGA National Teacher Of The Year and a LPGA and Golf Digest Top 50 Teacher, a Golf Digest and Golf Magazine Top Regional Teacher, and a U.S. Kids Golf Top 50 Master Kids Teacher.  Deb serves as the LPGA Teaching and Club Professionals National Vice-President and is a lead instructor in the LPGA Global Education Program in the U.S. and South Korea.
Facility type: Private
Past awards/recognitions:
GRAA Top 50 Growth of the Game Teaching Professional
LPGA Teacher of the Year
LPGA Section Teacher of the Year
U.S. Kids Golf Top 50 Kids Teacher
Golf Magazine Top 100
Golf Digest Best in State
Golf for Women Magazine Top 50 Teachers
UNI Athletics Hall of Fame
UNI School of HPELS Hall of Excellence
UNI Young Alumni Award
Technology used in instruction:
Approximate number of free "tune-ups" and lessons given per year: 50+
Growth of the game initiatives:
Sport and Golfer Clinics
New Golfer Clinics
Women Golfer Clinics
Senior Golfer Clinics
Pee Wee and Junior Golfer Clinics