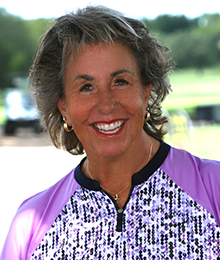 Deb Vangellow
Riverbend Country Club
Riverbend Country Club
1214 Dulles Avenue
Riverbend Country Club 1214 Dulles Avenue, Sugar Land, Texas 77478, US
http://www.debvangellowgolf.com
debbievang@mac.com
LPGA Master Professional/PGA Honorary Director/LPGA Hall of Fame Member Deb Vangellow holds both a BA and a Master Of Science Degree in Health/Physical Education/Coaching and Educational Leadership/Psychology from the University of Northern Iowa and Miami (Ohio) respectively. She currently is the Director Of Instruction at Riverbend Country Club in Houston, Texas.  Deb is the 2012 LPGA National Teacher Of The Year, an LPGA, Golf Digest Woman, and Golf For Women "Top 50" Teacher, a Golf Digest and GOLF Magazine "Top Regional/Best in State" Teacher", a US KIDS GOLF "Top 50 Master Kids Teacher" a Golf Tips Magazine "Top 25 Teacher", and a GRAA "Elite Top Growth Of The Game Professional". She served as the National President of the LPGA Teaching And Club Professionals and was a longtime lead instructor in the LPGA Global Education Program in the U.S. and Asia.  An educator/coach who offers wellness based developmental programming integrated into her "student centered" philosophy; Deb can be reached at online at www.debvangellowgolf.com.
Please indicate past awards won/recognitions:
GRAA Growth of the Game Teaching Professional, Golf Digest Best in State, LPGA Awards, Other (Indicate specific awards in 3-a below)
Other awards won (if provided):
2022 LPGA Professionals Hall of Fame, 2021 LPGA Ellen Griffin Rolex Award, Golf Tips Top 25 Teachers
Total number of individual lessons given per year:
Male: 500+
Female: 500+
Junior: 500+
Total number of individual clinics given per year:
25+
Please indicate any Growth of the Game initiatives your facility/academy has launched over the past year (please give specifics on such programs):
We have had tremendous growth at our facility. By engaging juniors and adults with quality instruction, teaching has been a terrific positive addition to our members joining the facility. Clinics and camps remain the most popular option and these are well attended and enjoyed!
Please share any programming you have made to keep your customers & students engaged:
*Junior Golf Clinics and Camps
*Junior Golf Operation 36 Program
*Ladies Golf Clinics
*Private Instruction For All